Musk Reads: Tesla Biohacker Beats Neuralink
Tesla Model 3 biohacker adds a key to her arm; a small patch of solar could meet humanity's energy needs; a $25,000 Tesla looks more likely.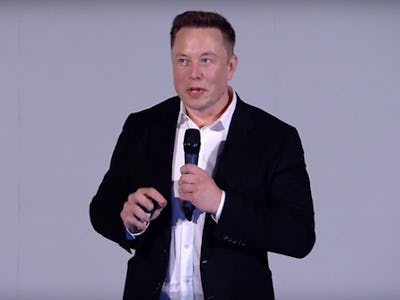 Tesla Model 3 biohacker adds a key to her arm; a small patch of solar could meet humanity's energy needs; a $25,000 Tesla looks more likely. It's Musk Reads: Tesla Edition #96.
A version of this article appeared in the "Musk Reads" newsletter. Sign up for free here.
Musk Quote of the Week
"Try playing Powerglide in your Tesla at volume 11."
Tesla
Ready to open your Tesla without any keys or phones? Amie DD, a software engineer from Texas, spent 11 months stripping down her Model 3's valet card to remove the critical components, insert them under the skin of her arm, and use it to unlock the car with a wave. Although Musk detailed last month about how Neuralink could pave the way to unlock a Tesla using only your body, DD's biohacking solution may have beaten him to the punch.
Rejoice, international readers! The Model 3 has made its way to Australia, New Zealand, and South Korea. In the latter country, the Standard Range Plus costs 52 million won, or $43,000. That's higher than the $38,990 price in the United States, but hefty incentives mean that in some provinces the car costs as little as $26,500.
What does 2020 look like for the Model 3? According to a new report, it's unlikely to face particularly strong competition. A Loup Ventures analysis released Sunday shows that there are likely going to be 24 electric cars in the American marketplace next year, up from 17 this year. However, Tesla's more efficient batteries, better supercharger network, and advanced self-driving options means the likes of Rivian and Lucid are unlikely to challenge Tesla. However, Loup Ventures does predict that in the next 10 years, Tesla's electric car market share in the United States will slip from 75 today to 20 or 25 percent — although as the American car market sells around 18 million cars per year, this decline would actually equate to around 3.6 to 4.5 million sales per year assuming the market goes fully electric.
Tesla Solar
When is the Tesla Solar Roof coming to your area? Inverse has received a number of emails from curious buyers asking when it will be available in Texas, Florida, the Virgin Islands, India, and more. The frustration coincides with a Business Insider report last week, which details how customers that have placed a deposit have received little feedback in the process. Musk declared 2019 as the year of the solar roof in March, declaring that it would ship to eight states with new weather enhancements. Unfortunately, it's unclear which eight states are receiving the solar roof, and Tesla has not yet responded to Inverse's requests for comment. Watch this space.
Could a small patch of farmland meet humanity's solar energy needs? A new study from Oregon State University looked at five local Tesla solar facilities to understand how a global rollout could transition the world onto clean energy. The team found that covering just one percent of farmland could fit the bill. The idea, known as "agrivoltaics," has resulted in more efficient land use in places like Chile and India, the latter of which hosts an all-solar airport that grows 60 tons of vegetables a year. Read more.
What's next for Tesla: The Tesla Pickup Truck is due for unveiling "maybe 2 to 3 months" from now, Musk claimed last month, as the team works to put the finishing touches on a mass-market vehicle billed by Musk as "cyberpunk."
Musk Reads Mailroom
Thomas Stoneking asks:
What happened to the electric car for the masses? My local dealer wants to sell me the model 3 for 50k. He tells me the lower priced models "are not worth it". I was looking for a car to compete with my Honda Accord, which is half the price. I don't use 25k worth of gas a year or even six years to make up the difference. I don't need all the fancy gadgetry to operate a vehicle, been doing just fine without for forty years. Besides, I like to drive! I currently hold a CDL. I'M disappointed to the point of all most being angry. I want to drive a electric car! I'm a machinist/engineer, don't make bad money but not that much!
It's true that Musk's promise of a $35,000 car is not quite what it seems at first. From the start, he said he wanted to "anti-sell" the Model 3, pushing consumers onto the more expensive varieties. The average selling price of the Model 3, he explained, would be around $50,000 once options and extras are included. Not exactly the electric car revolution Musk once promised, particularly for more cash-strapped buyers.
Fortunately, that could change in the next two or three years. Musk said in 2018 that a $25,000 Tesla could launch in three to four years. New analysis published Sunday suggests this could prove accurate.
Analysis from ARK Disrupt looked at how Wright's Law could influence the manufacturing cost of the Model 3 over time. Every cumulative doubling of the total number of Model 3s produced leads to a cost reduction of 15 percent. The car's current gross margins are at 17.2 percent, but if it maintains its average selling price of approximately $49,000, the gross margin could reach 30 percent by the end of 2020. That means in practice that Tesla should be able to absorb the $1,875 tax credit reduction, or even drop the average selling price to $39,000 and still make more profit from the Model 3 at a rate of 20 percent.
A cheaper Tesla soon? It's possible.
Darlene Truman asks:
We have a small RV. My dream would be to haul it with an electric vehicle. When can we expect the electric pickup truck to be available. Is Tesla working on a vehicle that has the capacity to pull RV's? It would be amazing… think of how many people could travel without the expense of oil & gas! It would increase tourism and related industries.
You're in luck, Darlene! The Tesla Model X is rated for 5,000 pounds, and two Pennsylvania residents have used the power to pull their small camper. Users on the TeslaMotorsClub have also seen similar success. The Model X has also been spotted pulling 250,000 pounds of muck out of a Boring Company tunnel, as well as towing a Boeing 787-9 Dreamliner that weighs 300,000 pounds — but, because this far exceeds the recommended tow weight, it's not advisable to start volunteering at the local airport.
Got any comments or queries? Don't forget to send them over to muskreads@inverse.com.
In Other Musk News…
Andrew Yang and Musk are singing each other's praises. The Democratic presidential hopeful noted his "admiration" for Musk this week as someone that's "contributed a lot to the world." Yang, who is running on a platform of universal basic income, received an endorsement from Musk on August 10 via Twitter. Musk followed up by declaring Yang's headline policy is "obviously needed," a position he has voiced in the past.
Video of the Week
Reddit user "Nhaiben369" gets an admirer for his Model 3: "One day I'm buying one!"
The Elonporium
Subscribe to Inverse Loot and learn about these deals first.
The Ultra-Fine Print
This has been Musk Reads: Tesla Edition #96, the weekly rundown of essential reading about futurist and entrepreneur Elon Musk. I'm Mike Brown, an innovation journalist for Inverse.
Sponsor Musk Reads and get your business in front of a brainy, curious audience that's motivated to make the world a little better tomorrow. advertising@inverse.com.
A version of this article appeared in the "Musk Reads" newsletter. Sign up for free here.