Best Watches for Men Under $100 Dollars on Amazon
You don't need to go broke to look like a million bucks.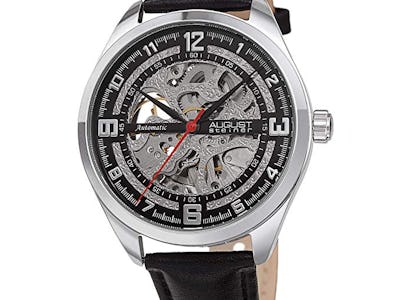 amazon
Anyone with even the smallest amount of fashion sense can tell you that accessories can make or break your look. The right accessories are the keys to looking polished. But very often you'll find that accessories can be a pricey proposition too. If you're looking for the right shoe to elevate your outfit you're going to have to fork over some serious dough. The good news is all accessories are not created equal. In this case, we're talking about watches. A quick scroll through Amazon will quickly show you that you don't have to go broke to look like a million bucks. We've done some digging and found the best watches for men under $100.
MVMT Chrono Gunmetal Chronograph
MVMT is a fairly new startup, looking to restore the idea of watch wearing to its former glory. MVMT's business model is to sell directly to the consumer and offer a wide variety of styles. Not only do they have a crazy amount of options to choose from, but their watches are also quite affordable with many hanging out at price points under $100. The gunmetal chronograph is our choice for a sleek, elegant timepiece perfect for any wardrobe.
Everyone is at least somewhat familiar with the Fossil name when it comes to accessories. Founded in 1984, they've been around for some time (no pun intended). And all for good reason, chances are no matter what your style is you'll find the perfect watch in the Fossil line and it's guaranteed to be affordable. The Grant Sport Stainless Steel and Leather Chronograph is our pick for distinguished addition to your wardrobe.
August Steiner Men's Skeleton Watch
There are some watches on the market that are simply works of art. People tend to buy them for timekeeping as well as for their ability to start a conversation. The August Steiner skeleton watch has a see-through dial that allows you to see the mechanics of the timepiece. August Steiner's skeleton watch is a work of art and timekeeping all rolled into one beautiful package.
Stuhrling watches are a striking combination of elegance and function. The Stuhrling Original is a lightweight, low profile, slim design for every day and every look. It's minimalist design automatically makes this one a tried and true classic.