The 3 Best Smart Thermostats Online Right Now
Know the smarts behind the best smart thermostats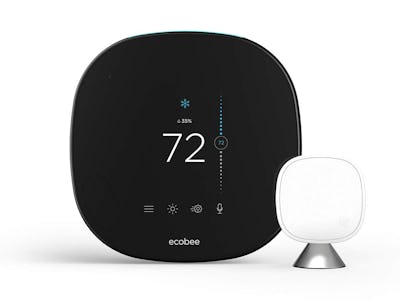 Amazon
Smart thermostats are a dime a dozen these days, some of which promise the world in features but rarely deliver. Luckily, there are a couple of options out there that do what they say they do, and then go the extra mile. Below, we're going to show you the standouts you should consider when shopping for a smart thermostat
Nest Learning Thermostat
We'll get the obvious one out of the way first. The Nest Learning Thermostat was one of the first of its kind and remains relevant simple due to the fact that it's (still) one of the best options you can get for a smart thermostat.
It's circular design that's available in several finishes make it very attractive, but it's not all about form. It rotating body provides an intuitive experience for temperature adjustments, making it a cinch to use. Of course, you don't have to physically touch the Nest at all if you don't want to. You can easily increase or decrease the temperature with the Nest app or smart voice assistant.
The Nest's biggest feature is its ability to learn your habits and adjust the thermostat to your liking automatically. Hence the "learning" bit in its name.
Those looking for a simplified and cheaper option don't have to look outside of the Nest ecosystem. You're looking for the Nest Thermostat E.
Ecobee 4
We would hardly call the Ecobee 4 a runner up to the Nest, given that it's a toss up in terms of reviews. They're both great, and both have their own features that make them so.
For the Ecobee, it's built-in Alexa speaker makes it a must buy for some. Though, one could argue that thermostats aren't usually placed in the best places for a smart speaker, so it more than likely won't be your go-to smart speaker. Nonetheless, it's hard to knock Ecobee for the feature, as it's pretty awesome.
In addition to built-in Alexa support, the Ecobee allows you to add room sensors throughout your house and have your thermostat direct airflow to rooms that are currently being used.
Design-wise, the Ecobee hits all the right marks. Its stark black screen and white backside is more than easy on the eyes and will likely be a hit with those who aren't impressed with Nest's rounded design.
An easy alternative to the Ecobee 4 is the Ecobee 3 Lite.
Honeywell Home T9
If you're looking for smart thermostat that combines the learning capabilities of the Nest with the nifty smart sensors of the Ecobee, you're in luck! The Honeywell Home T9 smart thermostat does just this.
While the T9 isn't by any means considered ugly, it certainly lacks the panache found in the likes of the offerings from Nest and Ecobee. It's a small rectangular slab with rounded edges, which may be to your liking, but it isn't going to win any design awards.
In addition to having the ability to focus airflow to a particular room where a sensor is present, the T9 can handle multiple rooms. This makes a ton of sense, given that there's a good chance that not every person in a house will always be in the same room.
Alternative: Honeywell Lyric T5