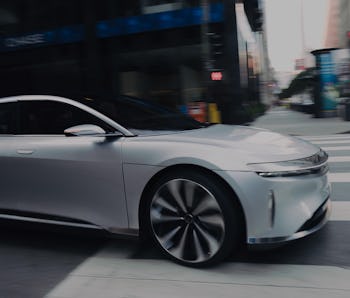 Innovation
Lucid Motors is Now Taking $2,500 Reservations for Its Air
Lucid Motors, the Silicon Valley-based electric car start-up with former Tesla Model S engineer Peter Rawlinson as its chief technology officer, made a splashy announcement Tuesday: Its first model, the Lucid Air, is up for pre-order.
The base price is $52,500 and reservations start at $2,500 (there's also a $25,500 reservation price for a limited-edition version, of which there are 255.) If you're looking for a Tesla alternative but still expect the quality of maybe a Mercedes or BMW, this could be it. A company rep tells Inverse that production of the Air will begin in the first half of 2019, and that anybody who put down $2,500 on Tuesday could expect the car to be theirs by the end of 2019.
It's been a busy few months for Lucid. Back in November, the Air still covered in camouflage came out of stealth mode at the 2016 L.A. Auto Show, where Rawlinson touted new battery technology that would lend itself to ride-sharing and autonomy.
"One of the breakthroughs that we've made is a new kind of circuitry that is very tolerant to continuous use, rapid-charged, continuous cycling, for a 24-hour period," Rawlinson said, claiming that the development was "really is hand in the glove with requirements for shared mobility and shared autonomy."
Lucid officially debuted the Air it in December. The company subsequently released information about its noise-canceling interior and videos of if shredding fresh powder. Then, in February, there was video of it rolling through SF.
But don't expect much about the Air to compete with Tesla Model 3, the other car that generated tons of buzz when it went up for pre-order (eventually garnering more than 350,000 reservations) recently. For one, the Air's base price (after a federal credit of $7,500) is much higher than the $35,000 base for the Model 3, which also had a reservation cost of $1,000. Instead, this clearly looks like a competitor to the Tesla Model S.
A blog post by Lucid published Tuesday explains that the Air "will be well appointed and enjoyable to drive," promising "superior comfort, a better user interface, and better performance" than its luxury competition.
Here are the standard specs announced by Lucid on Tuesday.
400 horsepower (rear-wheel drive)
All hardware necessary for autonomous driving
Huge interior space in an efficient package
Two trunks, one in the front and one in the rear, with a combined storage capacity of over 32 cubic feet (similar to the volume of a 4-person hot tub)
LED multi-lens array headlights
Four screens, with interactive-touch surfaces on three
5-seat configuration with a rear bench seat
Over-the-air software updates
And here's the Lucid debut video from back in January.