5 Smart Pet Gadgets That Take the Work Out of Caring for Your Pet
Spend more time doing the things you enjoy with your pet and less time doing the things you don't.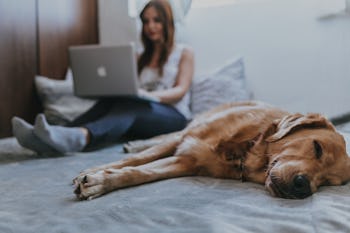 Unsplash / BRUNO CERVERA
Having a pet, like any responsibility, can be like volunteering for a second full-time job. Sometimes it's incredibly rewarding, but other times you've already spent your whole day putting out fires and the last thing you want to do is come home and clean the litter box or play an hour of fetch with the dog. You know in your heart of hearts that these things come with having a pet and you love your pet so you do them anyway. But what if I told you there were smart home gadgets that could take the hard work out of pet ownership?
What if there was a feeder bowl you could control remotely with your smartphone from anywhere you have WiFi? What if you didn't have to leave work at lunchtime to make sure your dog hasn't decimated all your throw pillows? What if I told you that all of these amazing smart pet gadgets are available on Amazon right now?
Well then, you'd probably have to get them, right?
The Automatic Dog and Cat Feeder You Can't Live Without
Why We Picked It: This smart pet feeder works with your smartphone and home WiFi to schedule your pet's feedings at the right time every day and with the proper amount. Schedule up to 12 meals at one time or use the Feed Now option to feed your pet on demand. Set your desired portion from anywhere as small as a 1/4 cup to as large as 4 cups at one time. Out of town and lose WiFi? The emergency back up system uses 4 D-batteries so that your pet never misses a meal even when the power goes out. The lid, hopper, bowl and bowl holder are all dishwasher safe for easy cleaning.
The Treat Tossing Pet Camera That Allows You To Check In From Anywhere
Why We Picked It: Featuring 2-way audio, night vision and high definition picture that can show up to 160 degrees of wide-angle viewing, this dog camera is able to toss a treat to your pet to get their attention while you're on the phone with them or keep them occupied with a game of catch when you're not. All you have to do is get the free Furbo companion app for your smartphone and from there you can start video chatting with your pet from work or vacation and even receive updates when your pet is barking.
The Interactive Ball Launcher That Will Play Fetch With Your Pet
Why We Picked It: If you have a dog that really, really, really loves fetch, you know how quickly your arm can fatigue from the repetitive motion. Don't deprive your dog of their beloved game and instead invest in this amazing interactive ball launcher your pet can use all by themselves. It comes with a built-in rechargeable battery that lasts for over 300 launches so this isn't another device you have to remember to charge nightly. After you select your launch distance from 10, 25 or 40 feet, you can train your dog to drop the ball in the iFetch and play self-contained fetch to their heart's content.
The Interactive Toy That Will Keep Your Cat From Getting Bored
Why We Picked It: Cats get bored just like us. How would you feel if you were home alone every day, didn't have thumbs or a social life? Probably bored. To keep your cat active and thus not destructive, disobedient or just plain rude, use this amazing interactive rotating laser toy that allows your pet or pets to have up to 15 minutes of self-contained fun without any more from you than the push of the on button. Its quietness makes it a great toy for even the most shy cats.
The Remote Control Collar That Works To Train Your Dog
Why We Picked It: Not only does this training collar use 15 adjustable levels of static stimulation and tone to teach your dog commands and correct behavior, but you can also purchase a second collar for your second dog to train both of them at the same time. With a 1000 yard range, this training collar is perfect for in-house use or outdoor hiking, walking and playing and the waterproof versatility allows you to enjoy places like the beach and lake with your pet without sacrificing training time. With built-in rechargeable batteries, the collar and remote quickly charge in less than 4 hours so that you can consistently train your pet.
The Litter Box You Never Have To Scoop
Why We Picked It: Having a cat is great, cleaning their litter box is not. This self-cleaning litter box from PetSafe has unbeatable odor control, has a slanted entry so that your cat isn't tracking litter all over the house and scoops itself so that all you have to do is replace the disposable plastic tray lining every few weeks to maintain a smell-free, mess-free litter box for your pet.