Musk Reads: Tesla Solar Steps Into the Sun
Tesla is booming in China, solar steps into the sun, and the Pickup Truck draws closer.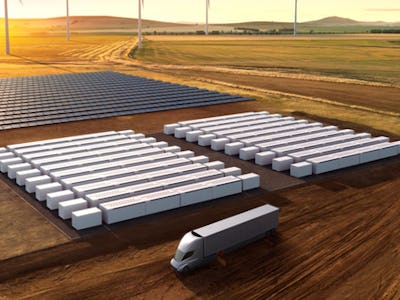 Tesla is booming in China, solar steps into the sun, and the Pickup Truck draws closer. It's Musk Reads: Tesla Edition #92.
Musk Quote of the Week
"V10 will include several games & infotainment features, improved highway Autopilot, better traffic light & stop sign recognition & Smart Summon."
A version of this article appeared in the "Musk Reads" newsletter. Sign up for free here.
Tesla
Tesla sales are booming in China, the company revealed in its second-quarter earnings report, jumping 40 percent over the first six months of 2019. The market is one of the most important for Tesla, where the release of the Model 3 caused major lines and the Shanghai Gigafactory is expected to come online later this year. Alongside China and the United States, Norway is also a key market for Tesla, thanks to a series of pro-electric car policies. Inverse dived into Tesla's success in Norway last October, and in April the new electric car market overtook non-electric for the first time. Tesla received a big boost in the first months of 2019 as the Model 3 expanded internationally.
Here is a breakdown of revenue by location based on Tesla's earnings:
Tesla's software is about to receive a slew of updates. Last week, the company announced the rollout of a chess game to the in-car video game arcade.
Next month, the firm is expected to roll out old-timey cartoon platformer Cuphead after successfully porting the Unity game engine and developing a system for additional supporting game storage via USB. Musk also teased Minecraft and Roblox as high priorities.
YouTube and Netflix streaming is also set to come as part of version 10 later this year, initially limited to streaming while the car is stopped. Once full self-driving is approved by regulators, Musk confirmed that YouTube and Netflix streaming will work when the car is moving.
Beyond entertainment, version 10 will support a variety of new semi-autonomous features, like Smart Summon.
Tesla Solar
Tesla unveiled the Megapack this week, a utility-scale energy storage system that provides 60 percent more energy density than the existing Powerpack. It comes as the company aims to produce multiple terawatt-hours of battery storage per year, a significant jump from the approximated 30 gigawatt-hours it currently produces. Musk's new plan is part of a broader shift to a more aggressive clean energy strategy as the company recovers from its Model 3 ramp-up and starts using more cells for stationary storage solutions. The plan has also manifested in a Las Vegas supercharger powered by solar energy. Read more.
The Tesla Solar Roof is also set to get a big manufacturing boost, as Musk declares the company will produce 1,000 roofs per week by the end of this year. The target comes as part of Tesla's "year of the solar roof," and it could transform the product from a niche creation to a more commonplace sight. Reservation holders for the Tesla Model 3 will likely be all too familiar with big claims about production rates, so this is maybe best taken with a grain of salt. Read more.
Is the solar business going through a rough patch? The Motley Fool writer Travis Hoium notes that Tesla's residential market share has fallen behind Sunrun, Vivint Solar, and SunPower. Tesla noted in its quarterly earnings report that solar retrofits have dropped to 29 megawatts, well below its highest-ever quarter peak of 258 megawatts.
In a subsequent 10Q filing, the firm revealed it had abandoned $60 million in solar research projects. The news comes after the firm radically restructured its pricing in April to reach just $1.99 per watt for new panels, well below the $2.85 average. Tesla acquired SolarCity in 2016 in a bid to bring Musk's clean energy businesses under one roof, but it may not make big waves until its most headline-grabbing product (the solar roof) reaches more homes later this year.
What's next for Tesla: The Tesla Pickup Truck is due for unveiling "maybe 2 to 3 months" from now, Musk claimed, as the team works to put the finishing touches on a mass-market vehicle billed by Musk as "cyberpunk."
Photo of the Week
Tesla Hardware 3, the chip designed to power full self-driving:
The Elonporium
Subscribe to Inverse Loot and learn about these deals first.
The Ultra-Fine Print
This has been Musk Reads: Tesla Edition #92, the weekly rundown of essential reading about futurist and entrepreneur Elon Musk. I'm Mike Brown, an innovation journalist for Inverse.
A version of this article appeared in the "Musk Reads" newsletter. Sign up for free here.