This Is the Very Best Gym Duffel Bag
The gym bag that outclasses it competitors.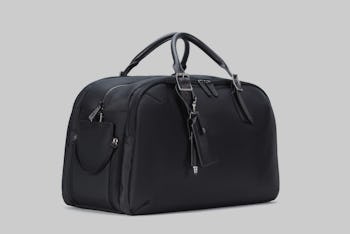 stuartandlau
With age and experience, there are two things you'll learn: you get what you pay for and a good bag is always worth it. And at some point in life, everyone has the epiphany that it's time to grow up, and invest in beautiful, well-made pieces to add to their wardrobe and accessory collection. That said, I've got to believe that the usual run of the mill gym bag should be the first thing on your list for an upgrade.
When you're looking for that perfect investment piece, no doubt you're going to want a gorgeous bag that outclasses its competitors. Stuart and Lau recognize this and the Regimen bag is their answer.
The designers of the Regimen bag by Stuart & Lau spent over a year conducting market research in order to create one amazing multipurpose bag. And it looks like they nailed it. The Regimen bag is a gym bag, a work bag and a travel bag all rolled into one great-looking package. Made with leather-trimmed, waterproof fabric and finished with gunmetal hardware, the end result is a super sleek bag that can go.
With the Regimen bag, you're prepared for anything and everything life throws your way.
The Regimen's exceptional design features for work include streamlined outer compartments, with a padded laptop pouch, a document holder, and cord and card organization. When you're leaving the office and headed to the gym all you need to do is grab your Regimen bag and go. With a large middle compartment that can hold just about anything, the Regimen bag is made with waterproof nylon that easily wipes clean. What's more, the Regimen has ventilated shoe pockets and interior/exterior bottle holders.
The Regimen bag leaves no box unchecked. With superior styling and attention to detail, it's easy to see why it's so highly sought after. With the expectation that the Regimen bag will be your favorite for years to come it's priced at $395, and also comes with a lifetime warranty.