Tesla Solar Roof: What Elon Musk Means When He Predicts 1,000 Roofs a Week
The sun is coming out for the roof.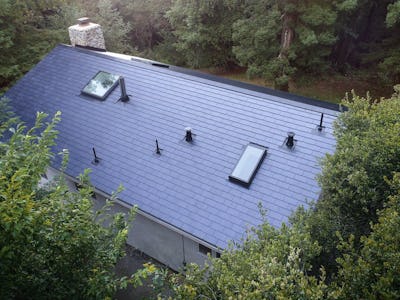 Tesla
Tesla is ratcheting up solar roof production, Elon Musk declared Monday. The CEO set a bold new target to produce 1,000 roofs per week by the end of the 2019, which is about the same number of Tesla Model S sedans that are produced during a week.
It's a boost that could transform the solar roof from obscure curiosity to a more regularly-spotted feature. Musk explained the new goal via Twitter:
Spooling up production line rapidly. Hoping to manufacture ~1000 solar roofs/week by end of this year.
The goal comes amid Musk's self-declared "year of the solar roof," as the company works to increase production and introduce new features.
Musk first unveiled the solar roof in October 2016 on the former set of Desperate Housewives, as skeptics wondered if the roofs would ever leave the fictional setting and enter the real world. It's been slow-going, with a few promising customer stories along the way, but it appears as if Tesla is making an earnest effort to ramp up solar roof production now that Model 3 cars have ascended from "production hell.".
The first Tesla solar roof installations went live in early 2018, and early buyer Amanda Tobler told Inverse at the time that "I wouldn't hesitate to do it again." But a Reuters report in May 2018 claimed Tesla had installed just 12 roofs, as the cell-starved firm directed its battery output to the Model 3 amid an aggressive production ramp.
Tesla now claims its solar roof output is showing signs of life. The third-generation model reportedly supports a greater variation in weather conditions, as it rolls out to eight American states.
Tesla Solar Roof: What's In a Roof?
The big question is how many tiles Tesla expects to produce when it plans to make 1,000 roofs per week. Based on the existing quoted installations, we can get a sense for what Tesla expects when it says "roof."
Tesla charges $42 per square foot for solar tiles and $11 per square foot for dummy non-solar tiles. It recommends a mix of 35 percent solar to non-solar tiles. Based on that, one could assume that Tesla is working to a similar ratio in its manufacturing assumptions.
We reached out to Tesla to help us fill in the blanks and will update this story when they do.
Here are some of the roofs spotted so far, though:
Amanda Tobler, one of the first to receive a roof, installed a 2,000 square foot roof with a ratio of 40 percent solar to non-solar.
Tri Huynh, also one of the first to receive a roof, received a staggering 70 percent solar roof on his 1,000 square foot installation.
One solar roof quote shared by Electrek showed a 1,862 square foot roof in the San Francisco Bay Area. This tends toward the high end, almost entirely covering the roof in solar.
Although Tesla pitches a 35 percent mix of solar for installs, it seems in practice they've advised individual customers to install more. That could mean, in practice, that the number of tiles in production match up merely to what Tesla would consider ideal for a roof install, instead of the amount actually needed.
Another interpretation is Tesla's figures are intended for a larger roof, and these roofs have used more than 35 percent to reach a similar energy rate of around 10 kilowatts.
As the tiles are not a single product it will be hard to produce an exact number to correspond to the number of roof customers, but time will reveal the size of the gap.
The Tesla Solar Roof and "Elon Time"
Musk has set the clock ticking, giving himself less than half a year to push up production. Based on Tesla's previous track record, that could be a tough goal to meet.
Tesla famously missed its projections on the Model 3, the entry-level vehicle that entered production in July 2017. The company expected to produce 20,000 cars in the month of December 2017, but ultimately only produced around 202 cars per week. Tesla eventually reached this goal in July 2018. The company went through similar delays with the Model X, later described as a "Faberge egg" by Musk due to its intricate design. Musk blamed the company's "hubris" for the Model X delay.
Beyond the cars themselves, Musk has sometimes struggled to come up with realistic deadlines for other projects. Tesla missed its goal of completing a cross-country autonomous road trip by the end of 2017, teasing the first features would launch as early as mid-2017.
Musk, who has explained before that production ramp-ups are hard to predict, previously said in a December 2018 interview that being bad with dates does not make him a liar.
"People should not ascribe to malice that which can easily be explained by stupidity," Musk said, paraphrasing Hanlon's Razor. "Just because I'm dumb at predicting dates, does not mean I am untruthful. I don't know…we've never made a mass-produced car. How am I supposed to know with precision when it's going to get done?"
Whether the solar roof can meet its goals remains to be seen.