Tesla Solar Roof: Elon Musk Says Tesla Can Make Solar Roofs Even Cheaper
The CEO has bold plans to bring costs down.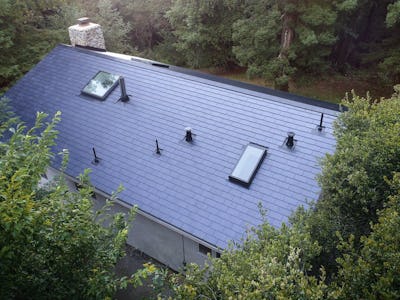 Tesla
When it comes to the high upfront costs of replacing a house's roof, Tesla's solar roof is already a pretty good deal, but Elon Musk says the company can go even lower in terms of price. At the annual shareholders' meeting on Tuesday, the CEO said its goal is to reduce prices to meet the cost of a normal shingle's roof plus the cost of energy bills.
"I've had a number of meetings with Drew [Baglino, vice president of technology], with him banging the table, being like 'dammit, we've got to achieve this!'," Musk told the audience at the Computer History Museum in Mountain View, California, during a presentation on the company's current state and plans for the future.
The solar-harvesting tiles, which look like a regular roof to the untrained eye, are part of Musk's broader plan to transition the world onto sustainable energy. In November 2016, on the set of Desperate Housewives, Musk showed how a roof could power a Tesla Model 3 in the garage and a Powerwall battery on the wall. This would create a complete loop, running the house off clean energy.
Bar a smattering of installations in May 2018, Tesla has been slow to roll the product out further. On Tuesday, he claimed the company is currently installing the roof in eight states, and work is almost complete on "version three." Previous reports suggest this version would be more weather-resistant, an important feature if solar roofs are going to be viable alternatives outside of sunny California.
"We have a shot at being equal to a comp shingle roof plus someone's utility costs, or maybe lower than that," Musk told the audience.
Tesla Solar Roof Price: How It Could Fall Further
Tesla's pitch with the solar roof has in the past been that it works out cheaper than buying a roof and solar panels separately. That's a good offer for people that were already considering both, but it's still a fairly pricey product for people on the fence about either.
Here is how the current costs break down:
Solar tiles, the ones that actually gather energy, cost $42 per square foot.
Non-solar tiles, dummy ones that are used for most of the roof and at parts that require cutting like the chimney, cost $11 per square foot.
Tesla recommends a mix of 35 percent solar tiles versus non-solar, which results in a cost of $21.85 per square foot.
Real-world installations suggest that figure is fairly accurate. Amanda Tobler, one of the first to install, told Inverse in May 2018 her 2,000-square-foot roof cost $50,000 for a mix of 40 percent solar. That is after the federal solar Investment Tax Credit factored in. This equates to a cost of $25 per square foot.
The current pricing makes Tesla's non-solar tiles cheaper than slate or some competitor tiles, but not quite as low as $6 per square foot price for roofing with simple asphalt. Tesla's marketing literature factors in energy savings to show the roof pays for itself:
To reach its goal, Tesla would need to bring that $21.85 figure down to one of those premium materials, plus the cost of electricity.
With Musk declaring in March 2019 that this is the "year of the solar roof," Tesla could show more progress on this front later this year.