Tesla Solar Roof: How the Price Stacks Up Against the Energy Savings
When does the Tesla Solar Roof pay off?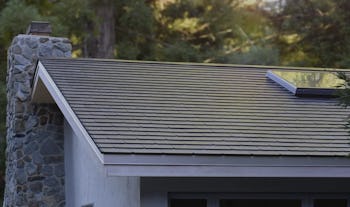 Tesla
The Tesla Solar Roof is futuristic and green, but is it a good investment?
The company's solar-harvesting tiles have caused a stir as a possible way to make residential solar panel installations more aesthetically pleasing and help customers save money on energy bills. Tesla argues that the cost of the roof is less than other, non-solar roofs once you factor in the energy savings. But homeowners will still need to foot the bill for the roof itself, which could make it a tricky sell.
CEO Elon Musk, who first demonstrated the roof in November 2016, says he's acutely aware of this challenge. Earlier this month, he suggested the company was making serious progress on the price point.
"We have a shot at being equal to a comp shingle roof plus someone's utility costs, or maybe lower than that," Musk told the audience at the Computer History Museum in Mountain View, California, during the company's annual shareholder meeting.
The roof has seen few installations since the first houses went live in early 2018. At the start of this year, Musk declared that 2019 is the "year of the solar roof," now that the firm has more battery cells to supply for the power-storing Powerwall units that keep the lights on at night. The company says it is now installing the roof in eight states, and "version three" is coming soon.
Not only does the solar roof offer a green energy solution that's much nicer-looking than conventional arrays, it also says it will save you cash. So Inverse used a mix of public marketing materials and figures provided by solar roof owner Amanda Tobler to crunch the numbers.
Tesla Solar Roof: How Much It Costs
Tesla sells two variants of tile. The first, which actually generates solar energy, costs $42 per square foot. The second is a dummy tile, and it costs $11 per square foot. The dummy tiles are actually a bit weaker to enable the installers to cut them to size. Tesla recommends a mix of 35 percent solar versus non-solar, which means a roof probably costs around $21.85 per square foot.
Tobler, who installed the roof on her California home and switched it on in May 2018 said that pricing aligned with her experience. Her 2,000-square-foot roof cost $50,000, with about 40 percent of the tiles producing 9.85 kilowatts of solar power. That's after the federal solar Investment Tax Credit is put into the mix. That comes to around $25 per square foot, not too far from Tesla's estimates once you factor in the extra tiles.
In June, a solar roof quote was published by Electrek. The specced-out roof in the San Francisco Bay area had an unusually high number of solar tiles. This placed the cost of a 1,862-square-foot roof, producing 9.45 kilowatts of power, at $64,634. Plus $10,050 for the Powerwall and $10,630 for roof and site repairs, the final total comes to $85,314. That comes to $35 per square foot for the roof itself.
However, once the $15,727 tax credit is factored in like with Tobler, this figure drops to $26.56 per square foot.
Tesla Solar Roof: How Much You Could Save
Tesla says the roof pays for itself over time. The tiles are rated to collect energy for 30 years, meaning in practice they may wind up being cheaper in the long run than regular roofs, too.
For the leaked solar roof quote provided to Electrek, Tesla estimated that the price of energy over 30 years would cost $65,466. That equates to $2,182.20 spent on energy each year. This would bring the total cost down to $4,121, according to Tesla's figures. Not bad at all.
One of the few that would know how it works in practice is Tobler. She tells Inverse that her energy bills for the previous 12 months came to "about $4,000 total." The year she had the roof, she paid $119.61 on a minimum delivery charge to stay connected to the grid. They also received $42.25 back for surplus energy, meaning they paid $77.36 for the total year.
This means Tobler saved $3,922 in a single year for the roof. Over 30 years she would have saved $117,660. That means, after 13 years of owning the roof, it probably would have paid for itself.
It's a tantalizing prospect, and the figures show the roof makes sense from an economic perspective. But that's still a hefty chunk of change for long-term savings, and it's a big leap of faith on a new product. It could take some time before the solar roof becomes a more common sight.
Update 7/1 6 a.m. Eastern time: An earlier version of this story described the solar roof as atheistically pleasing. It has since been corrected.