Elon Musk Hints at Autonomous Cross-Country Road Trips With Autopilot V10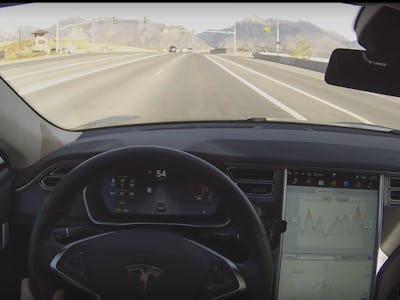 YouTube
Tesla's fully-autonomous driving system is coming soon. On Tuesday, CEO Elon Musk claimed on Twitter that the company could complete a cross-country self-driving car trip with the next major update to the Autopilot semi-autonomous system, a big step forward in the plan to enable the feature for cars using the latest suite of cameras and sensors.
The company is gearing up to release Autopilot version 9, complete with features like a dashcam, on-ramp off-ramp moves, and even a set of Atari games, when it launches in a wider release toward the end of September. Musk claims that the company may be able to perform a cross-country trip with an alpha build of version 10. The feat would fulfil a promise Musk made in October 2016, when he announced that all future cars would ship with the necessary cameras and sensors to offer level five autonomous driving. Musk claimed that Tesla would do a cross-country trip by the end of 2017, but nearly a year after the deadline the feature is nowhere to be seen.
Musk told investors in a February earnings call that the company missed the deadline to ensure it gets the feature right. He said that "we could have done the coast-to-coast drive, but it would have required too much specialized code to effectively game it or make it somewhat brittle and that it would work for one particular route, but not the general solution. So I think we would be able to repeat it, but if it's just not any other route, which is not really a true solution."
Tesla offers an Enhanced Autopilot package for $5,000 at time of purchase or $6,000 thereafter. The company offers consumers to pay an extra $3,000 to pre-order the full autonomy mode, rising to $5,000 after. While the company has offered the full autonomy feature order for nearly two years, consumers have yet to receive any features exclusive to the more advanced mode.
Musk wrote on Twitter in June that the company "will begin to enable" full self-driving features with the launch of version 9. As the new update rolls out, it could be the first clear indicator of exclusive full-self-driving features.
The release could mean Tesla beating competitors like Toyota to market by a sizeable measure.