Tesla's Full Self-Driving Will Lead to Huge Price Jumps, Elon Musk Says
A self-driving Tesla could cost a ton.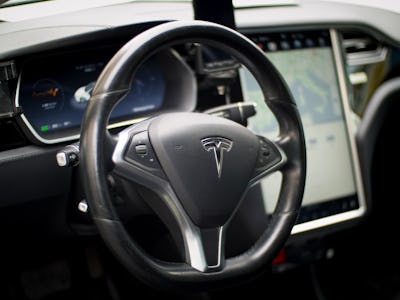 Flickr / Ivan Radic
Tesla's fully-autonomous driving suite could push the price of the company's cars "significantly," Elon Musk explained on Monday.
In a series of Twitter posts detailing the current state of Tesla's self-driving project, the CEO explained that supply and demand will dictate a much higher price for the company's cars. When a Twitter user called "DisruptResearch" asked whether consumers have limited time to buy a Tesla, as prices will rise severalfold to balance supply and demand, Musk responded "yes."
"To be clear, consumers will still be able to buy a Tesla, but the clearing price will rise significantly, as a fully autonomous car that can function as a robotaxi is several times more valuable than a non-autonomous car," Musk explained via Twitter.
Musk also explained that Tesla has already started shipping the "Hardware 3" computer, designed to support fully autonomous driving in existing vehicles. Vehicles built after October 2016, the company claims, have the necessary cameras and sensors to support fully autonomous driving with a software and computer upgrade. The software that actually enables this functionality, Musk explained, won't start to emerge until the end of this year.
"Production fully switched over [to the new computer] ~3 months ago," Musk wrote. "Functionality won't diverge until Q4, as it's limited by software validation. Will be later for Europe compared to rest of world due to regulatory constraints that were put in place years ago by big ICE [internal combustion engine] companies."
While regulations may restrict the speed of a future rollout, Musk explained the firm is making strong internal progress that is helping chase those nines. In other words, the team is working to reduce the number of edge cases that would trip up the software.
"Intersections with complex traffic lights & shopping mall parking lots are the two biggest software challenges," Musk wrote. "Developer branch already mostly works in these scenarios, but massive effort required to get to 99.9999% safety."
Tesla Full Self-Driving: Why It Could Raise Prices
It's not the first time that Musk has suggested the self-driving Tesla could cost a pretty penny. The CEO stated in May that an existing Tesla car could soar in price to be worth $250,000 over the next three years. Not bad when you consider that an entry-level Model 3 costs as little as $35,000.
As cars are famous for normally depreciating in value though, it seemed a pretty bold statement. Carfax data shows that new cars are normally worth about 40 percent of their value after five years. While Musk claims the company has an advantage in proprietary chips and software, it seems rather bold to suggest people will spend nearly a quarter of a million just to drive around hands-free.
Tesla plans to use this full autonomy solution to power a fleet of robo-taxis, picking up passengers and ferrying them around a city. This function, which Tesla expects to launch next year, could suddenly make the firm a key player in the ridesharing space.
"All HW2+ cars are upgradable to full self-driving capability with Tesla FSD computer & all production in past few months has FSD computer," Musk explained via Twitter Monday. "This is why it's possible for Tesla to have a million robotaxis by end of 2020 if we upgrade existing HW2 fleet of ~500k & make at least ~500k FSD cars."
This taxi fleet could earn owners a big chunk of change, setting their cars to operate as part of the fleet when it's not needed. Analysis from ARK Invest suggested in April 2019 that an autonomous Model 3 could produce a positive cash flow of $10,000 per year. That's a figure that even factors in depreciation, down payments and other running costs. In short, an autonomous car could pay for itself in a matter of years.
"The idea of an appreciating asset: Cars are no longer sold to passengers and owned by them, but vehicles might become monetizable assets in which people pay for access to cars to consume mobility as a service as opposed to owning vehicles," James Hodgson, a senior analyst at ABI Research, told Inverse in May.
Far from buying a car and using it as part of daily life, consumers of the future may end up in a Tesla primarily through this fleet service. Musk has made bold claims about the company's autonomous driving capabilities before, but if it pulls off the taxi service, it could have a huge effect on the company's business model.