Elon Musk Says He's Already Working on the Next Tesla Self-Driving Computer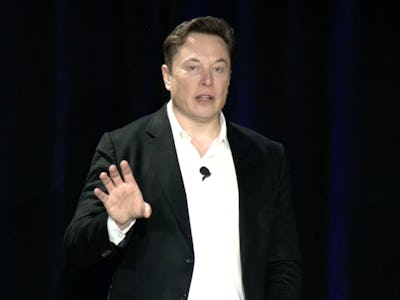 Tesla
Tesla has started work on a next-generation autonomous driving chip, CEO Elon Musk confirmed Monday. At an autonomy investors day presentation, where Musk explained how Tesla will use a chip dubbed "Hardware 3" to support full autonomous driving, the entrepreneur also revealed that work is already underway on a successor.
"It's maybe worth pointing out that we finished this design, like maybe one and a half, two years ago and began the design of the next generation," Musk said during the presentation at the company's Palo Alto headquarters on Monday. "We're not talking about the next generation today. But we're about halfway through it. All the things that are obvious for the next generation chip, we're doing."
The presentation focused on Tesla's journey to make a fully autonomous electric vehicle. The company unveiled its suite of eight cameras, 12 ultrasonic sensors and radar back in October 2016, with the promise that it would one day support full autonomous driving. The setup, dubbed "Hardware 2," was powered by an Nvidia Drive PX 2 and supported the semi-autonomous Autopilot mode. The follow-up chip was developed in-house by a team led by Apple veteran Pete Bannon and can process up to 21 times more frames per second than its predecessor, paving the way for full self-driving in those 2016 cars by switching out the PX 2 stored behind the glovebox.
Musk was reluctant to give further details about "Hardware 3"'s successor — "Hardware 4," perhaps? — but did confirm that it will likely be around "three times better than the current system," and that it's "about two years away" from its debut.
This timeline is in keeping with the development of "Hardware 3," which Tesla detailed in August 2018 and stated it had been in development for two or three years. Tesla started shipping the chip last month, which means both this generation and the next take around three and a half year to develop.
Musk later explained on Twitter that the goal of the fourth-generation suite will be about "chasing nines," or solving the edge cases so it can handle 99.99 percent of all driving.
The company claims that the software running on "Hardware 3" will be good enough by the middle of 2020 that drivers won't need to pay attention to the road. The firm is also aiming for one million robot taxis on the road by next year. If these predictions hold true, that means the fourth-generation chip won't be necessary to bring some of Tesla's biggest promises to market.
While Bannon helped create the world's first 64-bit smartphone chip in the tiny iPhone 5S, the focus for future iterations of Tesla's hardware will be on boosting functionality rather than making smaller hardware.
"It's actually quite dense," Bannon said in response to a question about whether the team will reduce the footprint of the "Hardware 3" chip as they tweak the design. "So in terms of reducing it, I don't think so. We'll greatly enhance the functional capabilities in the next generation."
In other words, it's all about chasing nines.