Musk Reads: Falcon Heavy Gears Up for Launch
Plus, Tesla's robo-taxi draws closer and the Starship takes shape.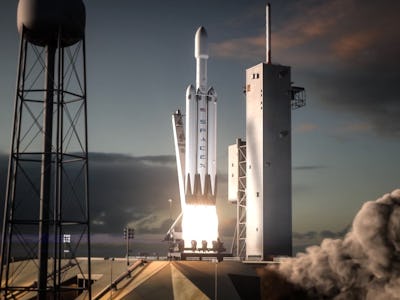 SpaceX
Tesla's robo-taxi gets a reveal date; SpaceX draws closer to a finished orbital Starship; and Starhopper completes its first jump. It's Musk Reads #73.
Keep an eye out for a special post-event edition of Musk Reads after tonight's Falcon Heavy launch!
A version of this article appeared in the "Musk Reads" newsletter. Sign up for free here.
Musk Quote of the Week
"It's there for when we start competing with Uber/Lyft & people allow their car to earn money for them as part of the Tesla shared autonomy fleet."
Read more about Tesla's feature hidden in plain sight.
SpaceX
The Falcon Heavy is ready for relaunch. The world's most powerful rocket, which sent up Musk's red Roadster on an approach to Mars with a "Starman" in the driver's seat, is now planning to send up the Arabsat-6A satellite. SpaceX will host a livestream of the event as it takes place. Read more.
SpaceX's Starship is also making progress. Following the Starhopper's first tethered hops, the first Raptor engine firing, and heat shield tests, work is underway on an orbital model slated to launch this summer. The Starship was first unveiled in September 2017 under the "BFR" moniker, and it's designed to send humans to Mars and beyond. Read more.
What's Next for SpaceX: The Falcon Heavy is set to launch on Wednesday after 6:35 p.m. Eastern time from the Kennedy Space Center in Florida, stationed at Launch Complex 39A. It will deliver Lockheed Martin's Arabsat-6A satellite into a geosynchronous transfer orbit, designed to offer television and cellular services for the Middle East, Africa, and Europe.
Tesla
Tesla's robot taxi plan came a step closer this week, as Musk announced the company will hold an Autonomy Investor Day on April 22 to explain how it will deliver hands-free driving by the end of 2020. Musk first outlined the idea back in 2016, and analysts later revealed how it could pay for a free Tesla. It comes as Tesla's A.I. chip enters production following its August reveal, and a Tesla Autopilot update makes journeys even more automated. Read more.
What's next for Tesla: Tesla is set to unveil its autonomy plans during an investor day on April 22.
Photo of the Week
Starship is taking shape:
The Ultra-Fine Print
This has been Musk Reads #73, the weekly rundown of essential reading about futurist and entrepreneur Elon Musk. I'm Mike Brown, an innovation journalist for Inverse.
Sponsor Musk Reads and get your business in front of a brainy, curious audience that's motivated to make the world a little better tomorrow.advertising@inverse.com.
Email me directly at mike.brown@inverse.com and follow Inverse on Twitter @inversedotcom. Follow me on Twitter @mikearildbrown.
A version of this article appeared in the "Musk Reads" newsletter. Sign up for free here.