Tesla Autopilot: Latest Software Update Makes Journeys Even More Automated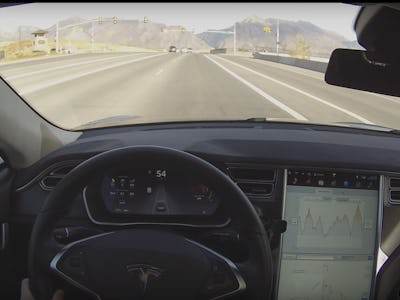 YouTube
Tesla has rolled out a software update for its Autopilot semi-autonomous driving system, and it takes computer-aided driving to a new level.
The update, detailed in a Wednesday blog post, changes the "Navigate on Autopilot" feature that first started rolling out in September 2018. The original iteration allowed a user to input a destination and let the system handle highway driving, changing lanes and exiting where appropriate, with the driver staying alert at all times and confirming lane changes with the turn stalk. In the new version, users can switch off this confirmation step to enable automatic lane changes.
The change comes alongside a boost to the underlying artificial intelligence powering the system. Musk explained late Wednesday evening that the upgrade is "not just a settings change" and the "neural net is upgraded too in this release."
It's all part of Tesla's plan to gradually develop the software to enable hands-off, point-to-point fully autonomous driving. Musk claimed in December 2018 that the end of next year is probably "when we would think it is safe for somebody to essentially fall asleep and wake up at their destination." The company plans to use the same cameras and sensors shipping with every Tesla since October 2016 to power the feature, only requiring a computer upgrade from the Nvidia Drive PX 2 to a more powerful custom-designed chip.
A launch by the end of next year could make Tesla one of the first to release a fully autonomous car. Volkswagen plans to release its I.D. Roomzz autonomous SUV in 2021, while Ford has also promised a similar timeframe. ARM has suggested that a more realistic timeframe for "level four" autonomy is around 2024.
Tesla Autopilot Update: What Else Has Changed?
Tesla's latest update also offers more customization for the Navigate on Autopilot feature. Users can now choose to automatically turn on the feature every time they enter a navigation route, eliminating the need to manually invoke the feature.
The update also offers added lane change confirmations. When enabled, the system will now play a sound alongside a visual cue. Cars built after August 2017, running on a platform suite known as "Hardware 2.5," will also feel their steering wheel vibrate.
The company notes that drivers have already completed over 66 million miles using Navigate on Autopilot, covering more than nine million suggested lane changes. Early software access users have also driven half a million miles with the lane change confirmation turned off.
It's a big figure, but Musk may need to rack up a far bigger number when it comes to full autonomous driving. The CEO suggested in 2016 that global regulatory approval would probably need around six billion miles.