Self-Driving Tesla: Elon Musk Sets Reveal Date for Robo-Taxi Plan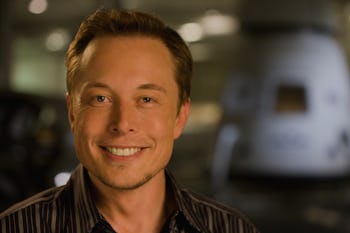 Flickr / OnInnovation
Tesla is about to take the wraps off its autonomous driving plans, including the ability for owners to send their cars out as robo-Ubers and earn money. CEO Elon Musk revealed Friday that the company's upcoming Autonomy Investor Day, an event in two weeks that will explain more about Tesla's ambitious proposals, will also cover how this feature will work in more detail.
"It's hard to wrap my head around a future where my car might be earning me money through autonomous driving while I'm asleep in my bed or play video games but here we are," professional League of Legends player Marcel Feldkamp wrote in Twitter Friday.
"That's exactly the idea," Musk responded. "What's not well understood is that Tesla cars being made today will be able to do that for you. Just a matter of finishing the software & going through regulatory approval. Will be explained in depth via live webcast on April 22."
Tesla detailed the upcoming event earlier this week, before it was rescheduled to April 22:
[…] Tesla will host investors on the morning of April 19th at our headquarters in Palo Alto to provide a deep dive into our self-driving technology and road map. Investors will be able to take test-drives to experience our Autopilot software first-hand, including features and functionality that are under active development. […]
Musk also revealed Friday that the mysterious interior camera, which appears in recent models of Tesla, will play a key role in ensuring security with this new feature:
Musk also noted that the camera could also be used to assist autonomy as it can see through the side windows and the rear window. It's currently disabled, but Musk claims that when it's activated Tesla will include a setting to disable.
Musk first outlined the idea in his 2016 master plan, estimating that most people only use their vehicles around 10 percent of the day, meaning the rest of the time could be dedicated to picking up fares. Owners could manage their car on the network using the smartphone app. Cities without enough Teslas could receive volunteer cars from the company to make up the difference, similar to how Tesla plans to offer Model X SUVs so pedestrians can use The Boring Company's autonomous car tunnels.
It's an idea that could help owners earn back the cost of their car. Gene Munster, an analyst at Loup Ventures, explained in March 2018 that a Tesla owner could make $6,892 per year after giving 10 percent to Tesla. The average lease payment in the United States is $350 to $500, but a Tesla owner could earn $574 per month. Munster estimates that this offer is so attractive, Tesla could claim four to 10 percent of the Ameican ride-sharing market by 2023, adding $2 billion to $6 billion in high margin revenue from that year.
"Instead of someone needing to drive their car personally, they can manage a fleet of self-driving cars," Musk wrote on Friday.
The feature would depend on Tesla completing its fully-autonomous driving system. The company announced in October 2016 that every Tesla would start shipping with the necessary cameras and sensors to one day enable full autonomous driving, through software and computer upgrades.
In April 2018 Tesla announced an upgrade to the Nvidia Drive PX 2, the computer powering the semi-autonomous Autopilot mode that requires the driver to maintain attention and take over at times. The in-house chip was developed over two to three years by a team led by Pete Bannon, the mind behind the iPhone 5S processor. Musk claims the feature will be safe enough to fall asleep at the wheel likely by the end of 2020.
Tesla has missed deadlines for full autonomy before, though. The company was expected to complete a coast-to-coast autonomous drive by the end of 2017. Pronto, a firm founded by autonomous driving engineer Anthony Levandowski, claimed in December 2018 that it had completed the feat already.
With Waymo raking up over 10 million autonomous miles with its Phoenix taxi service, Tesla is not short of competition in this upcoming space.