Elon Musk Laughs Off Waymo and Makes a Big Self-Driving Prediction for 2019
"When will think it's safe, full self-driving? Probably toward the end of this year."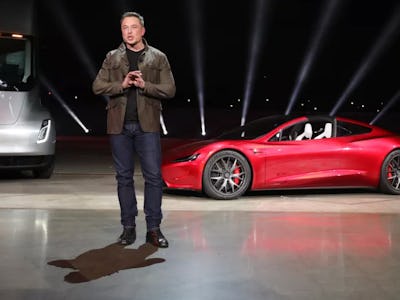 Tesla
Tesla CEO Elon Musk couldn't help himself during an earnings call Q&A on Wednesday. He laughed when an analyst cited a Morgan Stanley valuation of $175 billion for Waymo, the Google-born autonomous driving company seen as a Tesla competitor to develop the self-driving car. Musk also made a big self-driving prediction for 2019 on the call, saying this may be the year Tesla gets it right.
It's wasn't clear if the famously competitive Musk was laughing at the Waymo valuation — this was a phone call, after all — but he certainly laughed after it was said, and it would be understandable for any leader of a competing automaker to laugh off hints at competition.
He then said that the "fundamental goodness of Tesla, the 'why' of Tesla, the relevance, comes down to two things: The acceleration of sustainable energy, and autonomy."
The former is "absolutely fundamental," as relying on CO2-emitting engines that run on fossil fuels represents an objectively real "fundamental risk to humanity," he told investment analysts during the Q1 earnings call.
More Tesla Headlines from the Q1 Earnings Call:
Musk Hypes up Tesla Pickup Truck
Musk Offers More Details on the Model Y Suv
"But also very important is autonomy," he said, commenting that it is "very important to save millions of lives, tens of millions of serious injuries, and give people their time back so they don't have to drive."
The Tesla CEO said the company is confident in its "technical strategy," noting that the number of Teslas on the road right now that have 360 cameras, radar, ultrasonics, and are connected to the cloud, is around 300,000.
"We have a massive, massive training fleet," Musk said. "If you added everyone else up, combined, they're probably 5 percent — I'm being generous — of the miles that Tesla has. This difference is increasing."
"I'm just not sure how anyone competes with that."
Musk predicted that in 18 months, Tesla "will probably have a million vehicles on the road; every time the customer is driving the car, they are training the system to be better."
"I'm just not sure how anyone competes with that," he said.
Waymo might be the best competitor out there. In October, 2018, Waymo CEO John Krafcik announced that the company's self-driving vehicles had surpassed 10 million miles driven on public roads.
A little more than a month later, in late November, Tesla announced its Autopilot-enabled vehicles had driven 1 billion miles.
One big difference between Waymo and Tesla is that Waymo only makes self-driving technology, available for sale to any automaker. Tesla's branded Autopilot technology, on the other hand, is only available in a Tesla.
Waymo, a subsidiary of Alphabet, launched a self-driving car service in December in Phoenix called Waymo One. The Verge took a spin in one such self-driving van in an introductory news video. It was largely boring, the tech website reported. But that might be the point when it comes to self-driving cars. Boring=safe.
There are more competitors, too. Cruise Automation, a San Francisco self-driving start-up, was bought by General Motors for between $500 million and $1 billion, depending on various reports, in 2016. Testing of Cruise technology is happening in California, Arizona, and Michigan, according the company's official statements.
Right now, as various memorable Youtube videos have shown, Tesla's aren't fully autonomous. High-profile fatal accidents involving Teslas, wherein the Autopilot technology was enabled, have joined other fatal wrecks — notably the death of a pedestrian in Phoenix after she was hit by a self-driving Uber — in raising concerns the technology isn't road ready, to say the least. In October 2017, some 18 U.S. cities allowed some form of autonomous testing.
Musk's Big Predictions for Tesla Autonomy in 2019
Also on Wednesday's earnings call, Musk was asked about the best-case scenario for full autonomy to go live for Teslas. He noted that Tesla already has "full self-driving capability on highways" — although that remark was swiftly criticized. He also lobbed a few predictions:
Stalk to confirm going away
Musk also said the physical action of hitting a knob, or "stalk," in the Tesla to OK a self-driving lane change could go away, in markets where regulators OK it. He said he predicts U.S. regulators will approve the removal of the stalk-to-confirm requirement.
"It's really quite sublime … the car goes from highway on-ramp, passes slower cars, takes the interchange, and then comes to a stop after the exit," Musk said. "It's really quite profound to have that experience."
Traffic Lights and Parking Garages
Musk also said Autopilot technology is next poised to learn how to navigate through traffic lights at intersections — saying it's "the next really tricky" challenge. After that are parking garages that have multiple levels and pedestrians.
Enhanced Summon
Also on the horizon for Tesla's self-driving technology? "Enhanced summon," wherein the car will be able to navigate that parking lot to find you. "That is probably next month," Musk said. He also noted that in "development mode," all the above technology works, saying it's "98 percent good right now."
Full Autonomy
"When will think it's safe, full self-driving? Probably toward the end of this year," Musk said. "And then it's up to regulators to decide when they want to approve that."