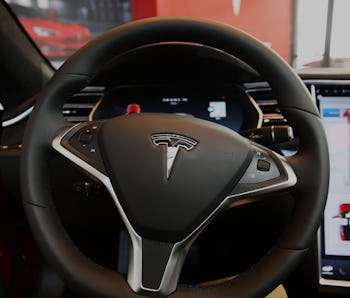 Innovation
The NHTSA's Final Ruling Just Cleared Tesla in May's Deadly Autopilot Crash
Getty Images / Spencer Platt
The NHTSA closed its investigation into the death of Joshua Brown, a Tesla owner who died in a collision with a tractor- trailer on May 7 while using the automaker's Autopilot software. The final report stated that "a safety-related defect trend has not been identified at this time and further examination of this issue does not appear to be warranted," and closed the investigation, a result Tesla CEO Elon Musk said was "very positive" for his company.
Tesla's blog issued a short official statement about the NHTSA report:
At Tesla, the safety of our customers comes first, and we appreciate the thoroughness of NHTSA's report and its conclusion.
Musk quickly pointed out that the report inadvertently praised Tesla's software, noting that crash rates for Tesla vehicles dropped by 40 percent after the Autopilot system incorporated Tesla's Autosteer capability in a system update.
The bulk of the NHTSA's investigation analyzed Autopilot's automatic emergency braking system (AEB), looking for flaws in it that might have led to Brown's death. After opening the investigation in July, the NHTSA scrutinized Tesla's system over a period of months and found no defects in the technology, noting that Autopilot's AEB systems were not designed to prevent the crash that killed Brown.
"AEB systems used in the automotive industry through MY 2016 are rear-end collision avoidance technologies that are not designed to reliably perform in all crash modes, including crossing path collisions," the report states.
According to the report, crossing path collisions, where a vehicle or object moves into the car's path perpendicularly, aren't prevented by AEB systems, because the object that's in the way isn't in the car's forward-facing sensor zone for long enough for it to identify it and react. Preliminary reports on the NHTSA's investigation found that Brown was traveling at 74 miles per hour, which would have given any AEB system even less time to identify a hazard and stop. The report noted that Tesla's Autopilot software is a "driver-assisted" technology, not a fully autonomous function (yet), and provides many warnings and alerts to make drivers aware of their surroundings while using the feature.
Still, the report didn't completely exonerate Tesla from any future problems Autopilot might have.
"The closing of this investigation does not constitute a finding by NHTSA that no safety-related defect exists," the report says. "The agency will monitor the issue and reserves the right to take future action if warranted by the circumstances."