Tesla Just Launched Its Futuristic "Enhanced Autopilot" Update
It's the next step towards full autonomy.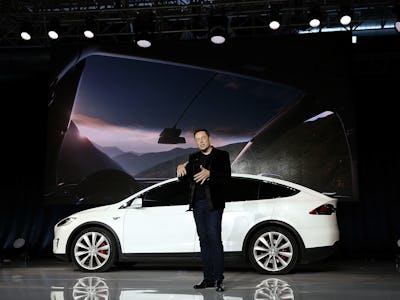 Getty Images / Justin Sullivan
Tesla has started updating a select number of cars with an enhanced version of its autopilot software, CEO Elon Musk confirmed on Saturday. The update, which is targeted at cars running on the advanced Hardware 2 platform, sets the stage for the company's grand plan to enable full self-driving capabilities by the end of 2017.
The update adds a number of enhancements to the autopilot mode, a limited form of autonomous driving that's intended for cruising down highways and similar situations. Autosteer, forward collision warnings, and traffic-aware cruise control are now enabled for Tesla vehicles running on Hardware 2, a new system of cameras and computers unveiled in October that is intended to work with full autonomy through a future software update.
"These features operate on a new hardware and software platform," the release notes, provided to Electrek, read. "Therefore, their rollout will be measured and cautious until we have generated confidence across several hundred million miles of real-world usage. Enhanced Autopilot will become better over time as this experience is gained and corner cases are addressed. In the meantime, it is particularly important that you remain vigilant and in control when using driver assistance features."
Musk had previously confirmed that a Hardware 2-powered autopilot update was on the way, and its launch in time for the new year is a positive sign that the company will make good progress in its plans to roll out regular updates for the new cars.
Of course, cars are slightly different than smartphones and computers, and it makes sense that Musk is exercising caution when rolling out the new update. As with most new technologies, there tends to be a degree of skepticism around any new launches, but initial tests with real-life scenarios show promise. In one video shared around the internet last month, a Tesla was able to predict a surprise crash before even the human driver was made aware of it. That level of awareness will help steer the conversation around autonomy to a question of whether human drivers are that safe, but there's a long way to go between now and the end of the year, and anything can happen in the wider conversation between now and then.