Self-Driving Tesla Edges Closer as Elon Musk Says A.I. Chip in Production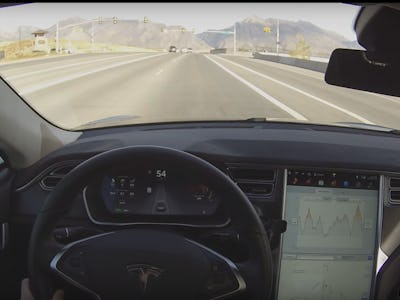 YouTube
Tesla's self-driving car chip is already in production, CEO Elon Musk said on Monday. The company's upcoming processor is designed to replace the chips in cars that started shipping in October 2016, bringing enough power to take data from the existing sensors and power full, hands-free autonomous driving.
"The Tesla Full Self-Driving Computer now in production is at about 5% compute load for these tasks or 10% with full fail-over redundancy," Musk declared on Twitter, responding to a video showing the recently-released "Navigate on Autopilot" function that leaves the highway at the correct exit but still requires drivers to maintain full attention.
It's a big step forward for the firm, which has promised full autonomous driving will eventually arrive on all of Tesla's recent cars. Musk claims the "Hardware 2" setup of eight cameras, ultrasonic sensors and GPS is enough to support the existing semi-autonomous Autopilot mode and full autonomous driving at a later date — even as competitors like Waymo opt for depth-sensing lidar systems. Musk first announced the chip, which replaces the Nvidia Drive PX 2, during an August 2018 conference call. In October 2018, he claimed the chip would be in all of the company's new production cars in around six months' time.
The chip forms part of a suite Tesla refers to as "Hardware 3." The company had been secretly developing the chip for the past three years at the time of its announcement, with a team led by the creator of the iPhone 5S' processor Pete Bannon. The chip runs the artificial intelligence neural network at "bare metal" level.
Where the old Drive PX 2 can process 20 frames per second, Tesla claims its own chip can process 2,000 frames with full redundancy and fail-over. This redundancy is key to ensuring the car reacts safely by reducing errors.
Nvidia's move into autonomous cars was always a bit of an accident, the company told Inverse in August 2017. Its expertise in video game graphics, which involves solving multiple problems in parallel, turned out to apply well to artificial intelligence and autonomous driving. The Drive PX 2 offers eight teraflops of performance, around six times that of the Xbox One.
"I'm a big fan of Nvidia, they do great stuff," Musk said during the chip's unveiling. "But using a GPU, fundamentally it's an emulation mode, and then you also get choked on the bus. So, the transfer between the GPU and the CPU ends up being one that constrains the system."
Nvidia has left the door open for Tesla to return, though, with CEO Jensen Huang stating days after the announcement that "if it doesn't turn out, for whatever reason it doesn't turn out for them [Tesla], you can give me a call and I'd be more than happy to help." Later that month the company confirmed to Inverse that it was still working with Tesla.
Tesla sells the semi-autonomous Autopilot mode for $3,000 at the time of the car's purchase or $4,000 after. Full self-driving costs an extra $5,000 if purchased at the time or $7,000 thereafter. Musk claims the chip will be included in these costs. Where originally the higher package was a pre-order for promised functions, Tesla now sells "full self-driving" as a package that includes features like "Navigate on Autopilot," even though these features require full attention.
It's unclear when Tesla will be able to offer point-to-point hands-free driving. The company originally planned to complete a coast-to-coast autonomous drive by the end of 2017, but this was shelved to focus on developing a more general solution. Anthony Levandowski claimed in December 2018 that he had achieved this feat before Tesla.
In February, Musk suggested that full autonomy would be safe enough by the end of next year. That's still faster than firms like Volkswagen, which expect autonomous cars to arrive by 2021, and ARM, which predicts the 2024 as more realistic.
If Musk is right, though, this month's reveal could be the moment where the feature took a big step toward reality.