Shunned by Silicon Valley, Anthony Levandowski Eyes the Trucking Industry
The embattled developer of autonomous tech on Elon Musk, criticism, and that cross-country video.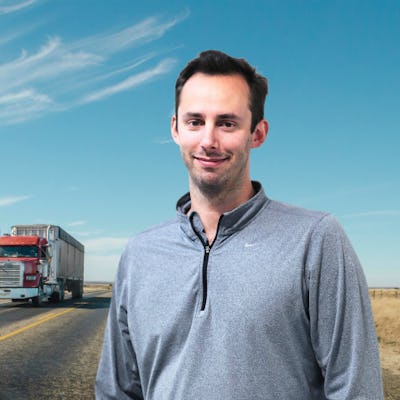 Pronto
Anthony Levandowski is frustrated. He's one of the industry's most prominent — and controversial — autonomous car engineers, and he feels that progress hasn't come quickly enough.
Tesla has only just released a feature that enables cars to leave the highway at the correct exit, while Waymo, the only company cleared to run California tests without a human in the driver's seat, struggled to turn left as recently as October. Having been the brains behind many of autonomous driving's biggest bets — first at Google, then at Uber — Levandowski's newest ambition is comparably modest: With Pronto, he wants to try for a second time to simplify the lives of semi-truck drivers.
He's facing an uphill climb. After decades of developing autonomous vehicles, Levandowski found himself shunned; perhaps due to his over-ambition and disregard for safety. In search of a new home, he's left the liberal tech bubble of Silicon Valley (with its equally bubble-shaped cars) to convince the red-state trucking industry that his tinker toys are an ideal fit for their 18-wheelers. It's a tall order considering his past, as Levandowski himself admits at the very beginning of a Medium post published in December announcing the new project:
I know what some of you might be thinking: "He's back?" Yes, I'm back.
Levandowski made a huge claim — and had the video to seemingly prove it! — when he debuted Pronto in December. His self-driving technology had completed a coast-to-coast drive across the United States two months prior; a Toyota Prius made a 3,099-mile journey from San Francisco to New York without takeovers from a human driver.
The feat apparently beat even Tesla and Elon Musk's goal of completing such a trip before the end of 2017. Musk announced in October 2016 that every Tesla produced from that date would offer the necessary cameras and sensors to support full autonomous driving, declaring, Jules Verne-style, that one of his cars would traverse the United States unaided within 15 months. Musk has since backtracked on this promised trip, saying that it would only lead to a "brittle" solution when the company could instead focus on a more well-rounded feature.
Whether Levandowski beat Musk to his own prediction likely won't ever be proven, but he does claim that video — and Pronto has far less to lose than Tesla.
Pronto's next goal is to release a driver assist system for semi trucks, similar to Tesla Autopilot, wherein the system manages a limited set of operations and the user has to remain alert at all times.
When I asked Levandowski what the thinking was behind the cross-country trip, and if the company's goal is to release a semi-autonomous system, he countered that the trip "effectively was [semi-autonomous], because we still had a driver monitoring and responsible if something did happen."
Technology critics, like Brian Merchant at Gizmodo, dismissed the cross-country trip as a "stunt" that "seems like more of a push to prove he's still a relevant force in the field." It ran under a headline calling it an "ethical minefield."
That criticism is fair. Autonomous driving technology has been linked to at least four deaths since 2016.
Gao Yaning, a 23-year-old from Hebei, China. On January 20, 2016, Yaning's Tesla Model S crashed into a truck. The family claims Tesla Autopilot was engaged at the time.
Josh Brown, a 40-year-old driving in Williston, Florida. On May 7, 2016, his Tesla Model S crashed into a truck. The NHTSA cleared Tesla of any wrongdoing in May 2017.
Elaine Herzberg, a 49-year-old crossing the road in Tempe, Arizona, on March 18, 2018. A Volvo using Uber's autonomous car technology failed to stop and the test driver failed to take control.
Wei "Walter" Huang, a 38-year-old Apple software engineer driving in Mountain View, California, that crashed his Tesla Model X on March 23, 2018.
So, What Is Pronto Selling?
Pronto tells Inverse its self-driving package includes:
Cameras that offer a surround view of the truck's exterior. These are automotive-grade and off-the-shelf.
A desktop-sized computer with consumer-level processors and graphics processors. The software can take on more driving maneuvers like lane changes as technology progresses.
Hardware add-ons for the throttle, brakes, and steering. These add-ons do not disable any existing function of the truck.
A monitoring system that ensures it is used correctly. In a test vehicle seen by The Guardian, a camera inside the cabin monitored the driver to ensure they paid attention.
Driver training and fleet coaching on proper system use.
Pronto's system is what's called a level two autonomous system. That's one step above cruise control, with steering and acceleration controlled by the system. It's markedly different from level five, the fully autonomous dream that's almost become the white whale of the industry.
The first truck driver assist units are set for delivery in the first half of this year, with initial units costing $4,999 per truck with a $299 pre-order charge. The system will keep the truck in the same lane by controlling the acceleration, braking, and steering. It will use the monitoring system to check if the user is maintaining attention on the road. If it detects the driver is not responsive and unengaged, it will pull over and stop.
It's not as exciting as a set-it-and-go-to-sleep autonomous car, but Pronto is hopeful that it can use those same technologies to make a real-world difference by reducing driver fatigue and collisions.
"To me, that's even more exciting than the cross country demo," Levandowski says.
The idea of a cross-country trip has been around in the industry for a while, but has seen little real-world progress. Delphi Automotive completed a 3,400-mile trip in April 2015 described as the first such trip, but it was only 99 percent autonomous, with a human controlling the other 1 percent.
Jeremy Carlson, principal analyst for analysis firm IHS Markit, went as far as to tell Inverse previously that the idea is "a nice demonstration of capability, but largely beside the point."
Automakers have instead focused on gathering data. Waymo announced in October 2018 that it had accumulated 10 million autonomous miles on public roads. Tesla announced the following month that its cars had racked up a billion semi-autonomous miles, making Tesla the runaway leader when it comes to miles driven.
Musk estimated in 2016 that, when it comes to autonomous cars, "worldwide regulatory approval will require something on the order of 6 billion miles" as a means of demonstrating that these cars have the real-world experience and technical prowess to gain more trust from the legal system.
A "really smart guy."
Levandowski refused to comment on that 6 billion miles figure, in particular, adding that Musk was a "really smart guy." Court filings show he didn't always feel this way. In September 2016, he texted Uber CEO Travis Kalanick: "we have got to start calling Elon on his shit," criticizing his claims around lidar technology in Teslas.
"Just counting the miles of experience doesn't necessarily mean that the miles are good — if you're driving in a remote area of Arizona, Texas, back and forth, where there's just no other vehicles, doing that for a trillion miles," Levandowski told me. It "doesn't mean you can handle traffic [in suburban] Los Angeles."
The cross-country demo should have been a moment of celebration for the industry, but Levandowski's grand claims were met with an equal amounts of skepticism.
Missy Cummings, director of the Humans and Autonomy Laboratory at Duke University, told The Guardian that "Anthony's job is to make claims that may be at the edge of what his technology is capable of." The Verge's report on the feat described Levandowski as "infamous."
Levandowski made his name at Google on the Street View mapping project before getting reassigned to the nascent autonomous car project in 2009. The New Yorker reports the team experienced several accidents in its early years, including one with Levandowski in the driver's seat that reportedly left one executive requiring multiple surgeries. He said in that story, "if it is your job to advance technology, safety cannot be your number one concern."
During this time, Levandowski also experimented with A.I. in more unusual ways, founding Way of the Future Church in September 2015 to "develop and promote the realization of a Godhead based on artificial intelligence." Musk publicly criticized Levandowski and his venture in October 2017, declaring him "on the list of people who should absolutely not be allowed to develop digital superintelligence."
When asked if there's any connection on the artificial intelligence front between Way of the Future and Pronto, Levandowski says they're "very different," explaining how firms in the coming decade will look at ways of replacing jobs like doctors and attorneys, but the team is "just focusing on transportation right now."
In 2016, Levandowski left Google to co-found Otto, aimed at bringing autonomy to the truck, which was later acquired by Uber.
Waymo, the autonomous driving firm that grew out of Google X, later sued Uber and accused Levandowski of divulging trade secrets by downloading 14,000 files related to its lidar technology before he left the company.
This all came to light, in Waymo's words, after it unexpectedly received an email from one of its suppliers showing Uber's lidar board designs instead of its own. The problem was, they looked a lot like Waymo's own designs. An email mixup led to a major court case between two Silicon Valley giants.
Levandowski, who invoked his Fifth Amendment rights during the investigation, was fired by Uber in May 2017.
The experience led to Pronto. Levandowski says he "had some time on [his] hands," where he was "thinking about, what do I want to do next?"
He was evaluating the last 15 years of his time in the autonomy industry, and realizing that little progress had been made toward what he thought were real-world solutions.
"In 2008, I did a Prius that delivered a pizza from San Francisco to Treasure Island, completely unmanned."
"It took a while to really step back and rethink, 'Why has there not been any driverless anything, even specifically in California," Levandowski says. He later claimed, "In 2008, I did a Prius that delivered a pizza from San Francisco to Treasure Island, completely unmanned. And to this day, there has been no other unmanned vehicles in California."
Pronto represents a change in gear from these Treasure Island escapades, but Levandowski is positive about its potential.
"I'd rather have 100,000 level two systems out than five sort-of-working level fours," Levandowski says. "I think it's laudable that everybody's focusing on the driverless potential … we just want to focus on getting a product out that's adding value today to as many people as possible, making them safer and more comfortable, and then over time upgrade to that."
Facing its new audience, Pronto held conversations with the trucking industry about whether it's ready to follow in Silicon Valley's footsteps to automate its decades-old ways of working. Out with the trucker pills, in with the computer chips.
And Pronto co-founder, Ognen Stojanovski, a Stanford University research scholoar, says Levandowski's past shouldn't hinder Pronto's future business.
"That's an interesting Silicon Valley story; not really anybody else's story."
Inverse asked Stojanovski if potential business customers have expressed any concerns about Levandowski's reputation, and he responded this way: "That's an interesting Silicon Valley story; not really anybody else's story." He added that the trucking industry is filled with "straight shooters" who "want to get to the point."
"They're worried about facts, not just like a rumor of somebody that heard something their friend told them about," Levandowski tells me.
His new customers may not care, but Silicon Valley hasn't forgotten. Arcady Sosinov, CEO of electric car charger firm FreeWire Technologies, a California startup backed by investors like BP and Volvo, responded to Inverse's description of Pronto with: "He's not shunned from the industry?"
Waymo and Uber have both dipped their toe in the autonomous trucking water, but Pronto could be among the first to make a splash.
While the firms may relish the prospect of full autonomy, as the labor makes up around 40 percent of trucking costs, the drivers themselves are less keen, as you might expect.
Steve Cotton, general secretary of the International Transport Workers' Federation that represents more than 20 million workers, told the Financial Times last month the trucks "threaten to disrupt the careers and lives of millions of professional truck drivers."
The prospect of autonomy completely replacing the driver may be overblown. Joe Rajkovacz, director of governmental affairs and communications at the Western States Trucking Association, told The Atlantic that "I just don't believe that you're ever going to see, at least in the world that's imagined right now, this fully autonomous truck without anyone in it."
Rajkovacz cited breakdowns as a big factor, where a driver could stay with the truck and call for help, even on empty Western highways. It's the sort of bold declaration that seems bound to resurface in a top list of famous false predictions, joining such greats as Ken Olsen, who said in 1977 that nobody would want a computer in their home.
Wrong or not, Rajkovacz may have the backing of his industry. Just 15 percent of leaders in the warehouse industry predict autonomous trucks could disrupt their industry.
If Pronto can convince enough of the 3.5 million American drivers to get on board with a system that makes their lives easier, Stojanovski envisions a mixed fleet model with varying levels of automation.
"It's definitely the alluring future."
"It's many, many years away," Levandowski adds. "It's definitely the alluring future. And they will happen at some point; we just think that there's a lot of steps between now and then that need to be crossed."
From a man that once pushed for progress at all costs, it's a remarkable admission.
Contact the author: mike.brown@inverse.com