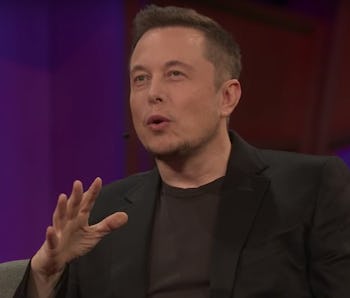 Culture
Elon Musk Slams Super-Intelligent A.I. God Plan: 'Absolutely Not'
The tech entrepreneur is firmly against Anthony Levandowski's proposal.
TED/YouTube
Elon Musk really doesn't want humanity to develop an artificial intelligence so powerful it can create its own religion. The tech entrepreneur criticized a former Uber engineer Tuesday over his plan to create a super-smart system that people can worship and "contribute to the betterment of society."
"On the list of people who should absolutely not be allowed to develop digital superintelligence…," Musk said on his Twitter page Tuesday, along with a link to a story by VentureBeat about Anthony Levandowski's proposal.
Levandowski, who found himself at the heart of a court case between Uber and Waymo, founded a religious startup called Way of the Future in September of 2015. Documents uncovered by Backchannel show the company is looking "to develop and promote the realization of a Godhead based on artificial intelligence and through understanding and worship of the Godhead contribute to the betterment of society." In other words, they want to create a robotic divinity.
It's no surprise that Musk is against the idea. He's spoken out before about how, without proper oversight, artificial intelligence could pose "a fundamental risk to the existence of human civilization." During a Q&A period of the ISS R&D conference in Washington, D.C. this summer, he said that A.I. is advancing "like a tidal wave" and there needed to be "some sort of government regulatory agency" to oversee the development of these new technologies.
The idea of A.I. leading its own religion isn't as outlandish as it first seems. Vince Lynch, the founder of custom A.I. firm IV.AI, claims that there's some similarities between how a machine learns a task and how the Bible teaches through recurring metaphors.
"The concept of teaching a machine to learn … and then teaching it to teach … (or write A.I.) isn't so different from the concept of a holy trinity or a being achieving enlightenment after many lessons learned with varying levels of success and failure," Lynch told VentureBeat.
Through this pattern, existing A.I. today have already started taking on creative tasks that until recently would have been considered exclusively human. This summer, computer science experts in London held a concert written by A.I., where the program learned how to write folk songs after reading thousands and identifying patterns. In Lynch's case, his firm has produced a system that can create new verses of the King James Bible.
Similar to Musk's proposal for regulatory oversight, the best way to move forward could be to urge system designers to consider the ethics of their proposals. The IEEE Standards Association is working on one such regulatory code of ethics, and other bodies have expressed an interest. Even if Levandowski pushes forward with his idea for a super-intelligence capable of creating its own ethical guidelines for humans to follow, whether people will actually worship it is a whole other question.
If you liked this article, check out this video in which Elon Musk's A.I. bot beats the world's best Dota 2 players.