WWDC 2023: Will Apple's Mixed Reality Headset Change the World?
Remember reality right now because it may never look the same again.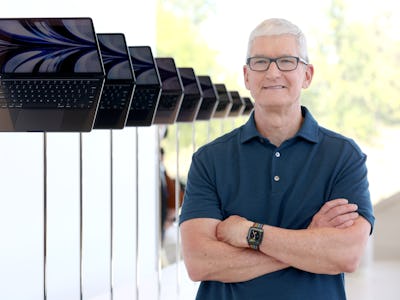 Justin Sullivan/Getty Images News/Getty Images
Recently, in my free time, I've been spending more hours away from the internet and technology, "touching grass" and appreciating our current reality.
A reality that's been rapidly shaped and reshaped by new technology numerous times. We created personal computers, smartphones, and smartwatches to help us live better and more connected lives, and in the process gradually, then suddenly, these modern conveniences have essentially imprisoned us, digging us into deeper digital holes further away from reality.
I've been soaking in the real world — with real people and exchanges — because we're on the cusp of reality blending with digital technology like never before. I'm, of course, talking about Apple's mixed reality headset, which is expected to debut on Monday, June 5 at WWDC 2023. It won't be the first VR/AR/XR headset, but it could be the first groundbreaking one that legitimizes the entire product category currently dominated by Meta and its Quest headsets.
The headset itself (and its rumored $3,000 price) will be fodder for endless think pieces, videos, and TikToks, but what I'm most interested in is how our reality will change after Apple puts the headset out in the world. Steve Jobs was fond of calling computers a "bicycle of the mind," using each new technology product he introduced to steer us forward. Where will Apple steer humanity with its mixed reality headset?
The Apple Headset
There are about a million rumors and leaks and concept images on Apple's mixed reality headset. The rumor mill has been churning out bits and pieces for years. Even Apple CEO Tim Cook himself has spent over half a decade teasing the infinite possibilities of augmented reality (AR), while coyly throwing shade at virtual reality (VR) and its isolating experience.
Word on the street is that this mixed reality headset could be Cook's legacy launch before he passes the baton to someone else. His own life-changing product launch since Steve Jobs introduced the iPad. This is — at least to me — nonsense because the Apple Watch and AirPods were both launched under his leadership and, accessories as they may be, have reshaped our lives just as much as the Macintosh and iPhone have.
The tech nerd in me — and very likely you — will no doubt scrutinize the headset's industrial design and pass judgment on its software and app support. What will be the defining app or use case? Will it really come with an external battery pack that slips into your back pocket? What about the goofy-sounding front display to show your eyes? These answers will all come to light at some point.
Looking at the bigger picture, I'm more fascinated by the downstream effect Apple's headset will have. Is this the beginning of the end for physical flat-screen TVs as we know it? The disruption that game consoles and PC gaming can't see? Will its lifelike FaceTime (or "copresence" as it's reportedly called) change communication forever? Are we about to experience a paradigm shift in how we consume and create content and live?
I think they're all possible outcomes, maybe not in generation one, but two, three, or four? Will we look back five years from now and wonder how we ever lived without a mixed reality headset? Every company, including Apple, has had product flops. But the one thing Apple does better than anyone else is stick to its guns for the long haul; it's never a sprint, always a marathon. And the company's coffers have been greatly rewarded for taking this long-game approach.
Bigger MacBook Air and New Desktop Macs
Beyond the mixed reality headset, Apple is expected to announce a new 15-inch MacBook Air. It would be the first time Apple's most popular Mac gets a screen larger than 13 inches. The laptop should resemble the 13-inch M2 MacBook Air, only bigger and with a larger display. I wouldn't be surprised if it has the longest battery life on any laptop Apple has ever created. That'd be super easy marketing and would sell the laptop on its own.
On the desktop front, Apple might debut new iMacs. The all-in-one desktop, powered by the M1 chip was last overhauled in 2021 with a super thin design and fun colors. It's due for a refresh with more powerful chips and a better built-in webcam. New Mac Studios are also a strong bet. Introduced in 2022 and configurable with a top-of-the-line M1 Ultra chip, the tiny (but powerful) desktop Mac is expected to have new M2 Max and M2 Ultra chips as configuration options; the design will stay the same.
The wild card is the Mac Pro, Apple's most expensive Mac that missed the company's two-year deadline to transition all of its computers from Intel processors to its own silicon. The tower desktop hasn't seen any major upgrade since its introduction in 2019. I wonder if there's even a need for a Mac Pro tower now that Apple has the Mac Studio and its integrated CPU and GPU system-on-chip blow it away.
Free Software Updates For All
Apple's mixed reality headset will steal all of the attention at WWDC 2023, but let's not forget that it's still a developer conference. For Apple, that means a stage to announce new software versions for all of its platforms.
Last year, the headlining features in iOS 16 for iPhone were a customizable lock screen and the ability to edit and unsend iMessages. Now a very mature platform, iOS 17 is expected to focus more on tightening the nuts and bolts, with tweaks to features like Control Center. iPadOS 17 for iPads should be similar, and refinements to critically panned Stage Manager and the addition of the iPhone's customizable lock screen rumored to be on deck.
The story's going to be the same for macOS, watchOS, and tvOS. Expect a few standout features that will improve the experience of these products, but nothing groundbreaking. That might sound disappointing but understand that Macs, Apple Watches, and Apple TVs don't really need their wheels reinvented, which is a testament to how Apple mostly gets things right from the start.
Best of all, Apple should be making its software updates free for all. Developer betas will arrive at WWDC, public betas shortly after, and final releases in the fall.