9 Actually Useful Accessories Every MacBook Pro Owner Needs
Fed up with the internet's recommendations, I wrote my own.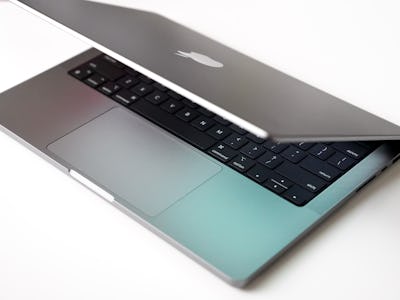 Photograph by Raymond Wong
We may receive a portion of sales if you purchase a product through a link in this article.
As a journalist who's spent almost 13 years testing products to recommend to readers, it was inevitable that I would find myself unsatisfied with the product recommendations so many tech publications have compiled. Specifically, I've found the accessory suggestions for Apple's 14- and 16-inch MacBook Pros extremely lacking.
There's nothing wrong with recommending people get a carrying bag or external mouse for a $2,000+ laptop. But I think I can do a little better as a 14-inch MacBook Pro owner since 2021 who has used it at home docked and undocked, brought it to the office, used it on cramped airplane tray tables, and lugged it around at CES 2023 to literally blog on the Las Vegas Convention Center show floor.
I know the ins and outs of my powerful little 14-inch MacBook Pro and the gear that really helps make it better at home, the office, and on the go. For the same reason I wrote my "best free Mac apps" list because I was frustrated by so many roundups including Chrome and Slack, here are the accessories that I think every MacBook Pro user (M1 Pro/M1 Max and M2 Pro/M2 Max models, not the 13-inch model) should own, or at the very least consider.
Inverse's parent company, BDG, might earn a commission if you purchase anything through an affiliate link, but I get nothing if you do or don't. My only motive for writing this guide is to share with you the MacBook Pro accessories that I have found invaluable.
9. Anker 737 GaNPrime 120W charger
I love that Apple brought back MagSafe charging in its 14- and 16-inch MacBook Pros, but I don't love how large the included charger is. It's baffling that Apple hasn't jumped on board the GaN train, which allows more compact charger designs that can pump out high wattages. Anker's 737 GaNPrime 120W charger is superior to Apple's pack-in charger in every way. It's half the size of Apple's 96W charger and has two USB-C ports and a USB-A port that can charge three devices at once; a 14-inch MacBook can charge at up to 100W, more than enough power to fast charge it. This is my favorite charger and I almost cried that one time I thought I lost it.
8. Belkin iPhone MagSafe Camera Mount
The FaceTime HD webcam on every MacBook Pro is pretty dang good for video calls. However, if you own an iPhone 12, iPhone 13, or iPhone 14, you can use its superior camera system to not only make yourself look even clearer, but in macOS Ventura, there's also a Desk View mode that can create a pseudo top-down perspective. If you decide to go this route and use your iPhone as a webcam, Belkin's iPhone MagSafe camera mount is a must-buy. It magnetically snaps on to your iPhone and clips onto the top of your MacBook Pro screen. Bonus: there's a pop-out ring grip that also doubles as a kickstand.
7. Whoosh! Screen Shine
This is the cleaning solution that you'll see Apple Store employees using to wipe down MacBook screens (and other Apple devices). I've tried many different screen cleaning sprays and wipes over the years and Whoosh! Screen Shine seems to work the best. Why does Apple use Whoosh! screen cleaner? Seeing as the solution is "free of alcohol, ammonia, dye, and fragrances" it's no wonder it's Apple-approved. I've been using Whoosh! to keep my MacBook Pro's Liquid Retina XDR display as dirt and dust-free as possible. So far, it's removed fingerprints and the frequent keyboard stains from my laptop screen without ruining the anti-reflective coating, something that's not true for other screen cleaning solutions, especially ones with alcohol in them.
6. Satechi Eco Hardshell Case
Repairing a MacBook Pro is expensive. And while I prefer to live dangerously and use my iPhones and iPads naked (why buy an Apple device if you're gonna cover it with an ugly case?), I still want some protection for my MacBook Pro that's worth 2–3x more. For a minimalist like myself, Satechi's Eco Hardshell Case shields my laptop without adding much bulk, all while still leaving access to all the ports. Plus, I prefer stickering the hell out of cases as opposed to my MacBook Pro.
5. AirPods
Whether you get AirPods (second-generation or third-generation), AirPods Pro (first or second-generation), or AirPods Max, Apple's homemade wireless earbuds and headphones are the best if you've got a MacBook, and even better if you own other Apple products like an iPhone or iPad. They connect instantly and when you're signed into your Apple account, AirPods can switch seamlessly between Apple devices. Is anybody really surprised that Apple's own wireless audio accessories work the best with its MacBook Pros?
4. Satechi Thunderbolt 4 Slim Hub
I'm always surprised to hear that many people don't know there's a difference between a USB-C hub and a Thunderbolt hub. The latter costs more and for good reason: with a Thunderbolt USB-C port, you can connect to power, multiple external monitors, and additional Thunderbolt and USB ports. Satechi's Thunderbolt 4 Slim Hub is a 5-in-1 tank capable of outputting to one 8K display or two 4K monitors while charging your MacBook Pro. It's also got three additional Thunderbolt 4 ports with insanely fast 40Gbps data transfer speeds and a USB-A 3.2 Gen 2 port. The 60W charges a 14-inch MacBook Pro slightly slower than Apple's 67W charger, but I've not found the need for speed when docked; my laptop's battery is almost always 100 percent when I disconnect it from the Satechi hub.
3. Samsung T7 Shield Portable SSD
Samsung claims its T7 Shield Portable SSD is so rugged it can withstand 10-foot drops and its IP65 rating can survive reasonable liquid and dust exposure. Maybe one of the dumbest things I've ever done to test a product is actually pouring a glass of water on this SSD — and it worked fine after drying! YouTubers swear by the non-rugged T7, which is cheaper, but I prefer the marginally beefier T7 Shield version, for its protection from the physical elements. There are for sure USB-powered portable SSDs with faster data transfer speeds, but the 1,050MB/s read and writes are good enough for my uses.
2. BaseQi microSD card adapter
There's no way to upgrade the flash storage inside of your MacBook Pro after purchase because Apple stopped allowing user-upgradeable storage (among other things like RAM) many years ago. That being said, you can still add external storage to your MacBook Pro without a cable plugged into a USB-C port. With an adapter like this one from BaseQi and a microSD card, you can add storage, all while maintaining a flush design. I should remind you that microSD card read/write speeds are nowhere near as fast as the internal storage or speeds from an external SSD or hard drive, but you can find inexpensive ones like this SanDisk Extreme 256GB card with up to 190MB/s speeds for only $27. Just make sure you don't lose the adapter when you take it out to read another memory card.
1. Zendure SuperTank Pro
There are tons of battery packs you can get for very little money, but few that can juice up a MacBook Pro in a timely fashion. My favorite is Zendure's SuperTank Pro — this thing is thicc and for good reason. First: The battery is packing 26,800 mAh of power, plenty to charge your devices and your friends' devices at the same time several times over. Second: It supports 100W Power Delivery, which is what you need to fast charge the 14-inch MacBook Pro — it's not enough juice to fast charge a 16-incher, which requires 140W charging but it's close enough. Third: There are four USB-C ports. Fourth: There's also a screen so you can monitor the power going through each device. And fifth: This thing looks like it was made by Rimowa.
I used the SuperTank Pro at CES 2023 and two round-trip flights from New York to California, and it just rips. Just a few years ago, battery banks that could charge up a MacBook Pro would be large, heavy, and require a built-in A/C socket. If you're a mobile warrior, the SuperTank Pro is a lifesaver and I can't recommend it enough.