Reviews
AirPods Pro review: Apple may have built the perfect wireless earbuds
Bigger and better sound, a tighter fit, and thoughtful design make the new Pods nearly irresistible.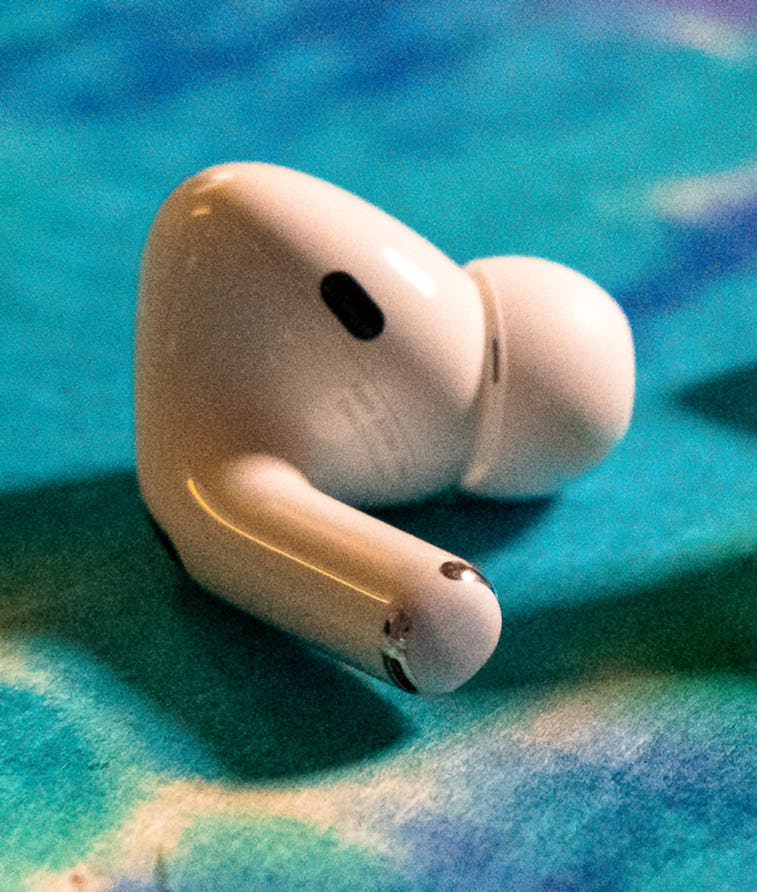 Joshua Topolsky / Input
There's one thing about AirPods everyone agrees on: they sound okay, but not knock-your-socks-off great. Apple's AirPods Pro ticks off that final checkbox.
I've been listening to music with AirPods Pro for a day — more than long enough to pass judgment — and they are phenomenal. The $249 true wireless buds are textbook Apple: not the first with active noise cancellation (ANC), but arguably the best.
With the exception of a few small bugs, the new AirPods have it all: fantastic noise cancellation, a natural-sounding ambient listening mode, smaller stems with physical playback controls, and a compact charging case that provides 24 hours of battery life like regular AirPods.
Even smaller now — Two things immediately caught my attention: the stems are shorter and the black, pill-shaped vents are larger and more noticeable. Like regular AirPods, you'll either dig the look, stems and all, or not. They look fine in my ears. As for the black vents, they're more utility than aesthetic — Apple says they're so prominent because they let in air to help "equalize pressure, minimizing the discomfort common in other in-ear designs." I'm no engineer, so I have no way to verify if the buds are really reducing pressure, but I can confirm they're very comfy for continuous wear.
AirPods Pro only come in white, which is fine. But it would have been even cooler if they came in different colors (and preferably with a matte finish) that matched the iPhone 11 Pro's gold, space gray, and Midnight Green.
Snugger fit and better controls — Regular AirPods fit my ears perfectly fine, but the ear tips on the AirPods Pro allow them to sit deeper and more securely in my ear canals, as well as seal in sound. I shook my head violently in all directions and the AirPods Pro stayed firmly in place. Although I didn't get to run with the AirPods Pro, I'm confident the buds, with their ear tips, won't slip out of my ears even when soaked in sweat. Speaking of which, they're sweat and water-resistant for light splashes (do not swim or shower with them).
Finding the right size ear tips for in-ear earbuds can be tricky (how do you really know which size fits best for each ear?). AirPods Pro have an "Ear Tip Fit Test" (accessed within the "i" icon for your AirPods Pro within your iOS device's Bluetooth settings) and after listening to a short tune, it'll tell you whether each ear tip is a "good seal" or not. If the test comes up negative, you should change one or both for a different size and redo it. I ran the test with all three pairs of included tips and all of them were a good seal. I guess my ears are pretty roomy.
Despite being 0.4 grams heavier than regular AirPods, AirPods Pro don't feel weightier. Each earbud is very light at 5.4 grams, which is something I can't say for many other wireless earbuds with active noise cancellation like Sony's WF-1000XM3 (8.5 grams) or similar noise-reduction technology like Amazon's Echo Buds (7.8 grams).
The best thing about their smaller design is easily the capacitive controls on each stem. Pressing and holding (it's more like pinching or squeezing with two fingers) either stem switches between active noise cancellation and Transparency (ambient) modes. A single pinch controls play/pause, a double-pinch skips to the next song, and a triple-pinch goes back to the previous track. These controls are way more intuitive than the ones on the Echo Buds. However, like those buds, there aren't any volume controls on AirPods Pro. To adjust the volume, you'll have to do so on your connected device or use Siri.
Phenomenal sound – Apple knocked sound out of the park with AirPods Pros. They're arguably the best-sounding true wireless earbuds with active noise cancellation priced $250 (or under) that I've ever tested.
In my briefing for AirPods Pros, Apple nerded out hard about all of the technologies it packed inside of the earbuds to achieve such blissful sound. From the flush ear tip design, to the three microphones on each earbud (two that continuously adjust at 200 times per second to cancel out surrounding noise in realtime and one to pick up your voice), to a "custom high-excursion, low-distortion driver," the earbuds are loaded with tech jargon you'll never bother to decode.
In my ears with active noise cancellation turned on, the AirPods Pro produced a very warm soundstage with audibly clearer mids and highs. Whereas it's a real disservice to listen to classical songs like Beethoven's "Für Elise" or Bach's "Cello Suite No. 1 in G Major" using AirPods with all their noise bleeding, I could actually separate the different intensities of the notes in each score.
Songs with stronger bass like Must Die!'s "Neo Tokyo" or Drake's "Hotline Bling" or Daft Punk's "Doin' it Right" all have more low-end kick to them — they have a little more thump, but not too much that the bass eclipses everything else.
They're arguably the best-sounding true wireless earbuds with active noise cancellation priced $250 (or under) that I've ever tested.
I especially enjoyed relistening to Eric Prydz's Opus. House tracks like "Som Sas" and "Liam" sounded considerably fuller than through my second-gen AirPods.
It's a tough call whether or not AirPods Pro's noise cancellation is better than on Sony's WF-1000XM3. Music sounds clearer on AirPods Pros, but Sony's buds block out a smidge more noise. I turned on my TV's speaker to 75% volume and could hear it a tad bit more with AirPods Pro compared to the WF-1000XM3. Like the Sony buds, AirPods Pro do a really great job blocking out external noise at around 50% volume or higher, but any lower and you will hear your surroundings.
Just as excellent as the noise cancellation is the ambient listening mode, or "Transparency mode" as Apple calls it. In Transparency mode, you can hear both your music and your surroundings — very useful for making sure you don't get hit by bikes or cars — and it's the most natural-sounding ambient mode I've tried on any true wireless earbuds. Ambient modes usually compromise on sound. Either the music volume is reduced and the ambient sound is amplified (and often a little bit distorted) or the music and ambient sound are blended together into an unnatural mix. Not so with Transparency — noise cancellation is turned off, music volume remains audible and ambient sound is filtered in at just the right level to not disrupt it.
I ran into a few bugs with my AirPods Pro review unit. The new "Announce Messages with Siri" feature which lets the assistant dictate your messages didn't work at first. And after a few hours, the buds got stuck in noise cancellation mode and wouldn't switch to Transparency mode or off mode; neither the stem buttons or the software controls within Control Center worked. A hard reset, however, fixed both problems.
Same solid battery life — AirPods get up to 5 hours of battery life on a single charge. AirPods Pro get the same battery life with active noise cancellation turned off. However, with the feature turned on, battery life drops to 4.5 hours on a single charge. It's not a major hit and with the charging case you still get up to 19.5 hours of power.
The case, by the way, is squatter than the regular AirPods case. I don't love it — it's harder to open with one hand — but I appreciate that it's barely larger than the non-Pro case when flipped on its side.
Worth the premium price
Regular AirPods are reasonably priced for the whole package. For $159, you get wireless earbuds that sound fine, come with a super compact charging case, connect effortlessly with Apple devices, and give you street cred.
At $249, AirPods Pros cost $90 extra, but holy Batman, are they worth the money if you've been waiting on Apple to deliver on great sound. Sony's $229 WF-1000XM3 were the best wireless earbuds with noise cancellation, but Apple just dunked on them with comparable (if not better) sound quality inside of smaller and lighter buds that fit in a tinier charging case. For the whole package, AirPods Pro are worth the extra $20 over Sony's buds.