iOS 17, iPadOS 17, and watchOS 10: Everything We Know (So Far)
Updates planned for Apple's iPhone, iPad, and Apple Watch operating systems will be detailed in June.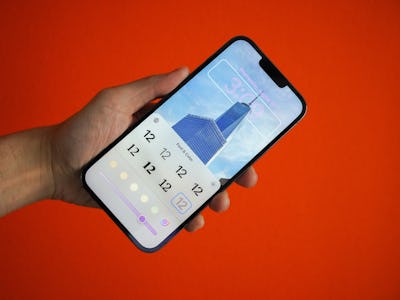 Photo by Ray Wong
As Apple's Worldwide Developers Conference approaches on June 5, the big news and driver of most rumors is whether the company plans to announce a mixed-reality headset. But this is a conference for developers after all, which means the company still has an obligation to detail improvements it's making to its most critical operating systems: iOS, iPadOS, watchOS, and macOS.
In a nutshell, it sounds like the updates will offer a few major changes and a lot of refinements. Bloomberg's Mark Gurman described Apple's plans for iOS 17 specifically as "fixing bugs and improving performance," and it seems like the company could apply the strategy to all of this year's updates. From the rumors and reports we've seen, that lines up — with only a few exceptions.
iOS 17
Last year, iOS 16 brought major new personalization features to iPhone's lock screen. Based on one leaker's claims on Weibo (via MacRumors), it sounds like iOS 17 could add even more options, like the ability to change the font size on the lock screen, display the lyrics for songs playing in Apple Music, and share customized lock screens.
Other changes would qualify as quality-of-life improvements. Leaker @analyst941 writes that Apple plans on including interface elements to make it easier to add and delete multiple wallpapers at once and rearrange their order on one single screen rather than the current scrolling view iOS 16 uses.
The other improvements include the ability to rename folders in the App Library (apps are currently sorted by their App Store category) and changes to the Control Center, which offers quick access to controls for Wi-Fi, Bluetooth, and volume. What Apple could end up doing with the Control Center hasn't leaked in detail other than that the improvements will be "major," according to MacRumors, but one imagines if the company is suddenly comfortable letting the lock screen be fully customized, the same logic could be applied to as underloved a feature as Control Center.
Also, in the cards: more built-in apps and updates to existing ones. Apple's last major addition to the suite of applications on iOS and iPadOS was Freeform, a collaborative whiteboard and design app. This year, The Wall Street Journal reports that Apple is planning on including a new journaling app that could offer deep integration with the company's other services. For example, your journal entries could auto-populate with a recent phone call, or you could write a post around an Apple Music song you're listening to.
In a new report, Bloomberg writes that the journaling app isn't meant to be part of the company's health initiatives, but instead an extension of the social elements already in Apple's operating systems, like sharing your location with friends in Find My. Apple is also rolling out a redesign to the Wallet app with separate sections for the types of things Wallet can hold (cards, IDs, keys, etc.) and the ability to search for specific cards or passes, according to @analyst941.
Thanks to the EU's Digital Markets Act, Apple's been forced to open up its mobile operating systems and end the App Store's monopoly on software distribution and sales. To do that, Apple is reportedly introducing a method to sideload apps in iOS 17. Based on what Bloomberg has learned so far, sideloading will likely come with some disincentives for developers like "mandating certain security requirements," requiring that Apple "verify" apps, and charging some kind of fee.
And don't expect the option to be available outside of Europe, either. Considering how critical the money the company makes on each App Store transaction is to its overall business, sideloading is not likely to become standard until it legally has to.
iPadOS 17
Less is known about what Apple plans for its tablet operating system, but it sounds like the iPad could get at least one app it's been missing up until this point. Apple is planning on expanding its health offering by bringing the Health app to its tablets with iPadOS 17 and adding tools for tracking your mood and vision (perhaps a place to store a prescription), according to Bloomberg. One assumes the company's new journaling app will also make the jump to larger screens too.
The work on Stage Manager, the new multitasking interface Apple first introduced in iPadOS 16, will also reportedly continue. iPadOS 17 will include several Stage Manager quality-of-life additions like support for external webcams, the ability to use the interface on an external display with the iPad screen off, and resize the iPad's dock, according to @analyst941.
watchOS 10
Apple introduced the Apple Watch Ultra last year, signaling at least some interest in expanding what its smartwatches can do all on their own. That new hardware wasn't accompanied by a dramatic rethinking of how watchOS should work, but apparently, watchOS 10 will address the issue.
The biggest change is rumored to be an updated interface for watchOS, which some leakers have claimed would basically bring watches more in alignment with iOS and iPadOS, including software elements like folders. Based on what Bloomberg's Mark Gurman has reported, it now sounds like update will have a specific focus on widgets, and reintroducing a widget system similar to the Glances that were a part of the first version of watchOS. Apple's efforts to push app development on watchOS have faltered in comparison to its other platforms, and widgets might end up being a lighter lift for developers and more useful for customers.
It's not clear if that would mean standalone apps for Apple Watch are totally off the table, however. There's a lot of screen real estate on the Ultra, and it would make sense that Apple would try to use it better than with just a few extra complications and watch faces. But whether or not that's something the company will focus on this year remains to be seen.
There are plenty of unknowns in regards to what other software improvements Apple might have in store for WWDC 2023 — including, what, if anything, is changing in macOS — but it does at least seem like there'll be things to look forward to in June that don't require you to strap anything your face.
This article was originally published on