WWDC 2022
Apple's iPadOS 16 might finally make sense of multitasking
The next big update for the iPad includes dramatic improvements to how you use multiple apps at once, and much, much, more.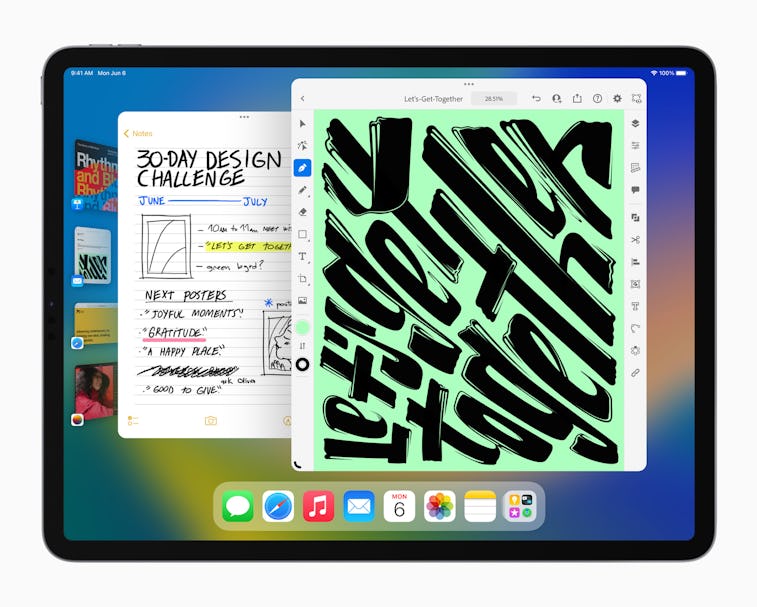 Apple
Among several other productivity improvements announced at Apple's WWDC 2022 keynote is the company's iPadOS16 update — a refresh on how the tablet juggles multitasking.
There are plenty of tweaks, like a new display scaling setting for showing more information in apps, but the most dramatic change is the inclusion of Stage Manager, Apple's new (somewhat overcomplicated) multitasking concept. In the Stage Manager view, apps behave more like apps on a desktop computer, with overlapping windows and bundles of windowed apps that you can switch between.
Things get even better when you connect an iPad to an external display. Based on the demo Apple showed, it's finally ditching letterboxing, so iPads will look like normal computers when they're connected to other displays. The same kind of features that SideCar enables, like using your iPad for stylus input, should also work in this mode.
Desktop app behavior — Across the board, Apple is making apps on iPad behave a lot more like apps on macOS, with consistent undo and redo functionality, document menus, improvements to what information you can see in the Files app, and simple stuff, like an "Availability view" in the Calendar app.
Other features — Several of Apple's new features for iOS 16 are also coming to iPadOS including the new and improved Spotlight search, dictation, and photo sharing.
Freeform, Apple's new all-in-one whiteboarding and brainstorming app, will also be available on iPad when it launches later this year.
More surprising, the iPad is finally getting a dedicated Weather app. Now we're just waiting for a calculator app to really round things out.
Lagging — Even as the iPad Pro and Air have pushed the limits of power on Apple's tablet line with M1 chips, the software itself hasn't changed much. Other than widgets, last year's iPadOS 15 update has a lot in common with the OS update from the year before.
Now, Apple still isn't turning iPadOS into macOS, but the changes the company introduced today should make the tablet even more flexible, and hopefully let developers imagine new ways for iPad owners to use their apps side-by-side with others.
Whether it actually makes the iPad a computer most people can get through their workday using will require some more testing. iPadOS 16 will be released in beta for developers on June 6 with a public beta to follow in July.