Inverse Daily: In Russia, vodka drinks you
Russia is a famously hard-drinking country, and alcohol-related deaths have been a consistent public health issue. A new report shows that things are looking up.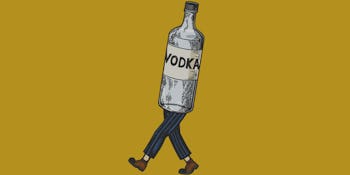 Good Monday morning, Inverse Daily readers. I'm Nick Lucchesi, executive editor at Inverse. There are no Succession spoilers in this newsletter, but there is a robotic exoskeleton, one reference to Shawshank Redemption, and a statistic about tanning salons that will make you reconsider their location. Plus, Russia. Always Russia.
Please email me suggestions for how to make Inverse Daily better, and follow me on Twitter where I retweet the best of Inverse every day.
This article is an adapted version of the Inverse Daily newsletter. Subscribe for free and earn rewards for reading every day.
INVERSE QUOTE OF THE DAY
"There's a lot of focus in medicine about professional development but not necessarily about personal development. I don't think we are properly prepared for the emotional stresses of the job."
— Dr. Mike Nally, who is riding his bicycle around the world.
Here's something that doesn't get enough attention
Each year, 2,000 men learn they have breast cancer — a condition that not a lot of men know can even affect them. There's a serious lack of data on men with breast cancer. Fortunately, that may be about to change.
Kathryn Ruddy, Ph.D., a cancer scientist at the Mayo Clinic, says "we have never successfully completed a clinical trial that was designed to test therapies in men specifically, so our management strategies are largely based on data from women."
She recently published a study that evaluates the ways it has been treated in a sample of 10,873 men with breast cancer. The five-year survival rate was 79.1 percent — but with more targeted treatments, it can go up. There's a proposal calling for the inclusion of men in breast cancer treatment trials.
More male health stories:
In Russia, vodka drinks you
Russia is a famously hard-drinking country, and alcohol-related deaths have been a consistent public health issue. A new report shows that things are looking up: Alcohol consumption has plummeted 43 percent since 2003, bringing the mortality rate down with it.
Two new reports show that life expectancy in Russia has increased by 6.1 years for men and 4.7 years for women since the 1980s, as alcohol use has declined. But it also showed a strange mirroring trend throughout history.
There are a lot of reasons not to read too closely into this (think about how much political, medical, and environmental change has happened since 1980).
TL;DR: Russia is a case study in just how much alcohol can take a toll on our lives, when use gets out of control.
More booze news:
"I had forgotten that I used to be taller"
Despite efforts to increase accessibility, navigating daily life with partial or total paralysis is still a constant struggle for many. New research aims to change that with the introduction of a mind-controlled exoskeleton mobility suit. Really. (There's a video.)
The suit is controlled via small computers that were implanted on the surface level of the patient's brain — right where the researchers observed the neural activity was when the patient thought about movement. After first training with a video game, the patient was strapped into the exoskeleton — which itself was anchored to the ceiling — and sent neural signals to either start or stop the walking process. In total, the man was able to walk 145 meters in the exoskeleton.
"I had forgotten that I used to be taller than a lot of people in the room. It was very impressive," the patient told New Scientist.
Researchers hope that it will be a big ~ step forward ~.
Go-go gadget arms:
Inverse Strategy
A newsletter packed with actionable tips to help you manage your career, life, and finances.
Brooks was here
In the United States, thousands of prisoners are put in "the hole" for years, and while it's established that the practice of isolating people results in trauma while they are in prison, new research shows solitary confinement is linked with massive costs once prisoners are released.
People who spent any time in what's officially known as "restrictive housing" during their incarceration at a North Carolina state prison were "significantly more likely to die of all causes in the first year after release than those who did not."
Furthermore, spending more than 14 days in solitary confinement was linked with a higher risk of death and reincarceration after release from prison.
The data shows it's time for a change.
Prisons are forever strange:
Location, location, location
Certain neighborhoods have more tanning salons than others, suggesting that the tanning industry may be strategically targeting certain populations, mimicking approaches of the tobacco industry to attract customers, new research out of Stanford University shows.
Data scientists there investigated whether there were more tanning salons in neighborhoods with gay men, who are six times more likely to use tanning salons than heterosexual men. They're also twice as likely to get skin cancer.
"If tanning facilities are available right next to your home, you're probably more likely to use them," says Eleni Linos, M.D., M.P.H., a dermatologist and professor at Stanford and senior author of the study. "Our concern is whether the tanning industry is targeting high-risk communities, similar to how the tobacco industry has done in the past, marketing to vulnerable groups."
More stories on big data:
Meanwhile …
Inverse Loot
Subscribe to Inverse Loot and learn about these deals first.
That's it for Inverse Daily on this Monday.
If you're pondering a career change, I couldn't recommend more this story by Inverse staffer Emma Betuel, who reports that you should engage in a little "mental time travel."