7 Reusable Replacements for Stuff You Normally Throw Out—They'll Save You So Much Money
Replacing these typical household items will be total game-changers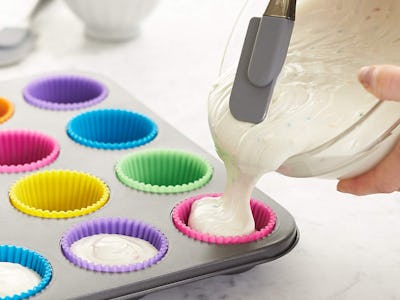 Amazon
There is no denying that America is a wasteful country. Landfills are overflowing, and we've generally got less than a decade to get our shit together. Admittedly this is more of a big-picture corporate and country problem, but, that doesn't mean we all can't do our part. One way we can make sure we are keeping landfills a little less packed? We can invest in reusable products for everyday items no one truly thinks twice about. I'm not talking about lunch boxes and water tumblers — more like makeup pad removers and replacements for paper towels. Not only will your investment do its part to save the earth, it will save you a ton of money in the long run by stocking up little by little now.
Ditch those plastic bags for good. These BPA free silicone bags arrive in a set of six. Not only do they work great for lunches, snacks, and the like. they are easy to clean. Just pop them the dishwasher to get it sparkling and in terms of use, these babies hold up to the freezer, microwave, oven or even boiling water. Plus getting rid of all that foil, wrap, and bags will be incredibly cathartic.
Find yourself making cupcakes or muffins like every weekend? Invest in these reusable baking cups for just $10. These silicone baking cups require no extra oiling or greasing to and work in the oven, the freezer and microwave. If you're thinking "who TF makes cupcakes every weekend and what good will this do me" bare with me here. These silicone cups are great for making make-ahead breakfast quiches that you can pop from the oven to the freezer and back again. Get creative and I promise these baking cups will prove their worth.
Reusable straws have recently gotten popular. While some are all about the metal straws, they can be a major hazard — really someone once fell on a metal straw and speared their brain through their eye. Silicone straws are much more practical and amenable to a busy lifestyle. These straws come in packs of 10 and include a cleaning brush. They also fit 20 OZ and 30 OZ tumblers!
This ethical and eco friendly way to store food also happens to be super stylish and cool to use. With the heat from your hands, used these beeswax wraps to mold over any container. As it cools, it tightens and seals the container, keeping food naturally fresh. You can also use it to wrap sandwiches and snacks on the go. Each pack contains 4 beeswax wrappers in sizes small, medium, large and extra-large. You'll never have to by aluminum foil or cling wrap again!
Who says being economically savvy and eco-friendly can't be stylish?This flatware set has everything you'll ever need for lunch on the go — including a nifty case to store it all in your bag. While it's likely you never have to pay per say for flatware in fast-food joints, if you're a pinicer this set will save you tons from buying plastic cutlery.
Keep your face fresh and clean without wasting paper makeup removing towelettes (something I end up personally buying every two weeks as a frequent makeup user). Squirt your favorite makeup melter onto the pad and gently use it across your face. Not only are they eco friendly, they are more effective. Bamboo face rounds apparently "remove more with every wipe and grabs onto makeup and oil better than cotton cloths." This pack comes with 20 reusable pads and a nifty machine washing bag to make sure you keep it all clean.
I know, I know. paper towels seem like a step too far, but hear us out. These super-strong bamboo towels can hold up to scrubbing dirty surfaces and also are super durable when wet. You can safely machine wash them and store back on your kitchen counter for easy access. Paper towels are typically $13 a three pack which lasts about 3 weeks to a month, so this will pay for itself nearly immediately.