6 Couples' Halloween Costumes That Aren't Cheesy
Be a hit at the next Halloween party with these show-stopping couple's costumes.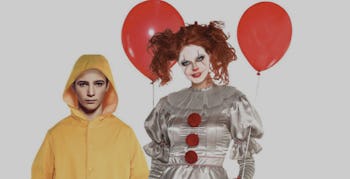 Party City 
As the leaves change and the world converts every item we have into a "pumpkin spice" version of the original, it can only mean one thing: Halloween is coming. Whether or not you live for spooky season, or tolerate getting dressed up for the promise of a good time with friends, couple costumes can take your Halloween to new heights. When we think of couples' Halloween costumes, we tend to think of think of the stereotypical duos: Peanut butter and jelly, witch and warlock—the list goes on and on. Frankly, it's boring. Couple's costumes for Halloween should be unique and compliment each other perfectly. Which is why you should send your S.O. or your best friend this list of creative costumes that you don't have to spend a ton of time making. Check out some of our favorite costumes this year and make your Halloween a truly spooktacular one.
Feel like you and your S.O. are the perfect pair? Prove it with this dynamic duo costume. This couple's Halloween costume is so simple and cheap but everyone will totally get a kick out of it (sorry, we had to). Wear whatever you want underneath with these stretchy one-size-fits-all costumes or don all black to make the sneakers stand out. A nice (but unnecessary) touch? Make sure you wear matching sneaks to go with the costume. Printed on both sides and super stretchy, they slip over clothes easily and work well for any gendered pair!
You'll float too with this unlikely duo costume. It: Chapter 2 may be surrounded by mixed reviews, but it admittedly makes for a damn good scary couple costume. With the right face paint and accessories, the female It costume will creep anyone out. Pennywise's costume comes with a gray dress, a collar, boot toppers, and leg warmers. While Georgie could simply accessorize with the provided paper boat—or you could go all out and make it look like his arm was ripped off, a'la Chapter 1 style. This costume comes with a yellow raincoat and the laminated paper boat says "SS Georgie." Either way, you're bound to give some coulrophobia sufferers some real nightmare's this Halloween.
The ultimate Halloween Duo, Morticia and Gomez Addams have been long-time "couple goals" for anyone who aligns themselves with the creepy and kooky. Morticia Addams is the epitome of hot mom, and her fetching costume is perfectly tight and accented with cobweb sleeves. To truly pull off the look, you'll need a deep black wig and killer red lipstick keeps it classy in his striped purple and black suit with an oversized cigar hanging out of his mouth. It is essential to pick up that fake mustache if you aren't already rocking one. For a fun twist, try swapping stereotypical genders. (NOTE TO EDITOR: If this reads transphobic in any way, please take out)
This one is for all those Elphaba and Glinda Wicked stanners out there. These curvy costumes are great for for women who are ready to walk into a party and do battle. The Wicked Witch of the West gets a sexy makeover with this costume, which includes a plus size black and green dress, a hat, a cape, and gloves. Go or gold and paint the face and showing arms/legs green to really nail the look. Glinda the good witch costume includes a full-length gown with pink satin bodice with a sweetheart neckline and pearl trim. Add glittery makeup to truly capture her essence.
All in good fun, these world-travelers are the most stereotypical tourists and aren't ashamed of it any way. For just $25 you can grab one of these costumes (it comes packaged with one suit) which comes as a one-piece jumpsuit featuring a shirt top with the words 'Which way to the Buffet' printed on the front and blue Bermuda style shorts with a wire hoop waist. You'll have to accessorize with your own hats, drinks and sandals with socks— the smear of suntan lotion on the nose is a great touch!
It's a-you, a-Mario (or Luigi, whoever floats your boat) here to crash the party! This clever and comfortable costumer feature the ultimate video game duo in custom Mario Kart race cars. Both Mario costumes only feature the go-kart with suspenders. To really pull off the costume, you'll need to nab the accessories separately.