Everything we know about Rey (and Luke's) lightsaber in 'Rise of Skywalker'
The most famous weapon in all of Star Wars will be pivotal to the ending of this saga. But how?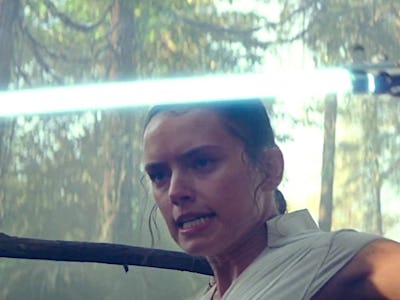 Lucasfilm
Everything that was broken in The Last Jedi has been glued back together in The Rise of Skywalker — literally! The last Star Wars film in the "Skywalker saga" will wrap up an epic nine-movie story, largely by making sure all your favorite toys are still working. Kylo Ren broke his helmet in The Last Jedi, but now it looks like that's been fixed. What's more, the most famous lightsaber of them all, built by Anakin and later wielded by Luke and Rey, was split into two in The Last Jedi, but that sucker is back, too! But what do we really know about Rey's blue-bladed saber in The Rise of Skywalker? How did she fix it? Will she keep it throughout the film? And, most importantly, will one major mystery about the saber ever be answered?
Speculative spoilers ahead.
At New York Comic Con 2019, just a few months ahead of The Rise of Skywalker hitting theaters in December, Marvel comics revealed plans to start a new ongoing Star Wars series set right after The Empire Strikes Back. (Back in early 2015, they did the same thing, only the series was set right after A New Hope.) All of this stuff is 100 percent canon, and according to a reveal at New York Comic Con, the first issue will focus, quite literally, on Luke's lightsaber tumbling into the depths of Cloud City. Here's the image released by Marvel from that forthcoming new Star Wars #1:
Looking at this, you may wonder what this could possibly tell you about this same lightsaber in The Rise of Skywalker. Well, possibly a lot. Famously, this lightsaber showed-up randomly in The Force Awakens, hidden in a wooden chest in Maz Kanata's castle. But how did it get there? When Han Solo incredulously asked that question, Maz said it was story for "another time." Is it possible that time is now?
The journey of the Skywalker lightsaber could be the key to The Rise of Skywalker, but will it be explained after the fact?
To be clear, the new Marvel relaunch of Star Wars comics won't happen until January, which means whatever backstory is being teased here will happen after The Rise of Skywalker is in theaters. But, the writer on this series is Charles Soule, who previously retconned the origin of Vader's lightsaber for Marvel's comics. So, the idea that some of these post-Rise of Skywalker comics would reveal backstory about the lightsaber isn't crazy. If The Rise of Skywalker doesn't explain how the lightsaber made it from Cloud City to Maz's castle on Takodana, maybe this comic will fill in those details.
Rey's vision in The Force Awakens was originally, meant to show the journey of the lightsaber itself
If you dig deep enough, you'll discover that originally, Rey's "Force-back" vision in The Force Awakens was going to be a lot longer. In the final film, we see Rey in a Cloud City corridor, but originally, scenes were shot where she witnesses Luke lose his hand and (and lightsaber) to Darth Vader. Abrams has even suggested this scene was a kind of history of where the lightsaber had been, which doesn't make total sense yet. (We're still trying to figure out that Knight of Ren in the rain scene, and what it means, if anything.) The point is, some kind of backstory for the lightsaber existed during different cuts of The Force Awakens, and at one point, Maz was going to give it back to Leia. If any of this old footage will be re-used in The Rise of Skywalker, Leia could have some answers as to what happened to the saber in-between Empire and The Force Awakens.
Rey has clearly stitched the saber back together with some gold metal
By now, hardcore fans have probably noticed images of props and toys from The Rise of Skywalker popping-up online. In September, Twitter user Michelle Buchman posted photos of Rise of Skywalker prop replicas, including Rey's lightsaber. As you can see in the photo, there's very clearly a gold-band around the middle of the saber, which seems to be some kind of metal that Rey used to fix it after the saber was broken in two by Kylo Ren and Rey in The Last Jedi. One of the trailers also shows a red piece of fabric either on Rey's hand or on the saber itself. Is the seam on this saber a little unstable? Is it burning Rey's hand without that fabric?
Rey might ditch this saber at some point in the movie
Because of the image of Dark Rey with the double-bladed red lightsaber, it stands to reason she'll ditch the blue-bladed Skywalker lightsaber at some point. Then again, if Dark Rey is a dream or a flashback, then maybe not. Still, Luke Skywalker got a new lightsaber in Return of the Jedi, because he built it himself. In fact, building your own lightsaber is kind of part of becoming a Jedi. So, either Rey builds a new saber (the red one) or re-building the Skywalker lightsaber "counts" as her building her own.
We still don't know why the lightsaber "called" to Rey, or if Anakin's ghost is involved in all of this
In The Force Awakens, Maz says the lightsaber "calls" to Rey, and in the final big moment of the movie, it flies into her hand. But why? Kylo Ren claims to have been in contact with the ghost of Darth Vader/Anakin Skywalker in The Force Awakens, but what if Anakin's ghost is actually helping Rey out. Because the lightsaber was built by Anakin Skywalker prior to Revenge of the Sith, it seems to be imbued with some serious mojo of "the Chosen One." If Rey is the new Chosen One, then it feels like the spirit of Anakin might have something to say about all that. In other words, if a Hayden Christensen cameo happens in The Rise of Skywalker, maybe he can explain what happed to his old lightsaber.
Star Wars: The Rise of Skywalker- Anakin tells a story about his lost lightsaber hits theaters on December 20.