Lucasfilm reveals the one comic you need to read before 'Rise of Skywalker'
"You guys are not prepared for this one."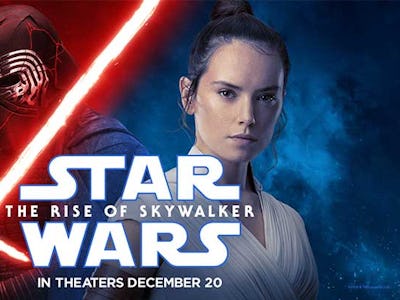 Lucasfilm
Lucasfilm has been publishing a whole bunch of Star Wars comics in the lead-up to Episode IX: The Rise of Skywalker, and a few have already revealed key details about the upcoming movie. However, it turns out the most revealing Star Wars comic book is yet to come.
Speaking at a New York Comic Con panel attended by Inverse, Michael Siglain is Director of Creative Franchise at Disney–Lucasfilm Press teased The Rise of Kylo Ren, a Kylo comic book backstory debuting on December 18 from writer Charles Soule. Specifically, he promised that the new series might as well be considered required reading for anyone planning to see Star Wars: The Rise of Skywalker in theaters.
"I've read the first script, you guys are not prepared for this one," Siglain said. "It might not be a bad idea to pick this one up before the film comes out."
Soule couldn't reveal any specific details about The Rise of Kylo Ren, but at a Fan Expo Toronto panel in September, he shared a bit more about the process. According to a CBR report, Soule confirmed that Lucasfilm gave him a set of key plot details from The Rise of Skywalker to incorporate into the comic book. His story also had to be approved by the Lucasfilm Story Group.
"Any significant change in Star Wars, that isn't just a little shade of a character that we know really well, it's vetted to make sure that it feels like Star Wars, that it fits within the Star Wars Universe, that it balances within the story universe, and that isn't in conflict with the Story Group," he said.
He added that his comic will reveal how Ben Solo became Kylo Ren, and it won't be a happy story.
"You know, Ben Solo is tragic," Soule said. "The potential of him from the day he was born, everyone around him saw or thought they saw what he could be. So he was put in all these different paths, and we've kind of seen how that's gone wrong in the films so far. This is a story about Ben Solo, understanding some of the choices he made."
With Kylo Ren's redemption heavily rumored to happen in The Rise of SKywalker, it makes sense that the story of how he joined the Dark side would be required reading. And considering how The Last Jedi played with the idea of competing, subjective narratives in the way it told and retold the story of Kylo's origins, we're definitely due for an official backstory.
And if The Rise of Kylo Ren also blows our minds like Siglain says it will, well, that's just a bonus.
Correction: An earlier version of the article misstated the release date for The Rise of Kylo Ren #1. We regret the error.
The Rise of Kylo Ren debuts on December 18. Star Wars: The Rise of Skywalker hits theaters on December 20.