17 new trailers and TV clips revealed at New York Comic Con
From Star Trek to 'Snowpiercer'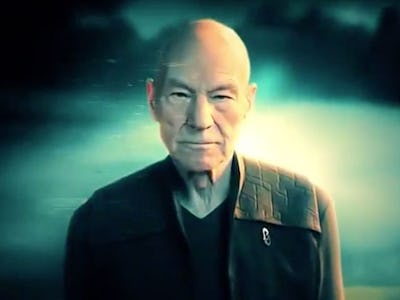 CBS All Access
New York Comic Con 2019 is coming to a close. So as the cosplayers and celebrities head home, let's take a look back at some of the most exciting trailers from NYCC, from Star Trek: Picard to Lost in Space Season 2 to the new Big Mouth spinoff Human Resources.
Read on for our 17 favorite trailers and clips, but first, here's a quick look at some of our best NYCC coverage so far:
17. Devs teaser
FX is playing coy about this new sci-fi series from the director of Annihilation, but you can check out a tantalizing teaser for the series, which premieres in Spring 2020.
16. Kamala Khan leads the charge in Square Enix's Avengers video game
It's been a big year for Ms. Marvel, and 2020 will be even bigger. We recently learned that the Muslim American superhero would get her own Disney+ show set in the Marvel Cinematic Universe. Now, it's been revealed that she'll also star in the upcoming Marvel's Avengers video game, coming May 15, 2020.
15. Expanse Season 4 trailer
Fans have been waiting a very long time for The Expanse to return. Now, it's finally almost here. Check out the trailer before the series returns on December 13.
14. Star Trek: Discover Season 3
In other sci-fi news, CBS revealed the latest trailer for Star Trek: Discovery, which premieres next year on the network's All Access streaming service.
13. Picard
At NYCC, CBS finally revealed the release date for Picard, along with new plot details and even more returning cast members.
12. Lost in Space Season 2
Netflix's Lost in Space adaptation is back! Season 2 premieres on December 24.
11. Human Resources
As if Big Mouth wasn't enough, Nick Kroll announced that we're getting a spinoff series set in the world of the monsters titled Human Resources. Netflix released a very short teaser that doesn't reveal much, which makes sense since the show won't even begin production until after Kroll is done with Big Mouth Season 5.
10. Runaways Season 3
Hulu's popular Marvel series returns with a third season that's set to crossover with Cloak and Dagger. Runaways returns on December 13.
9. Reprisal
Hulu's newest original series stars Abigail Spencer and Ron Perlman in a haunting story of revenge. Reprisal premieres on December 6.
8. Riverdale Season 4
Mark your calendars: Riverdale returns on October 10.
7. Snowpiercer
TNT's new Snowpiercer series won't premiere until Spring 2020, but we did get a look at the show's animated intro. The show is expected to hue more closely to the original comic book than the well-regarded movie adaptation from Bong Joon-ho.
6. Star Trek: Short Treks
This new Star Trek anthology series explores the stories of various popular characters. The first episode premiered on October 4, but CBS released a new episode trailer on October 5 at NYCC.
5. A new show in the Walking Dead universe
This still-untitled series focuses on a group of teens who grew up in a protected town in the Walking Dead world who have to venture beyond the safety of their walls. It premieres in Spring 2020.
4. The Walking Dead Season 10 Episode 1 opening
Speaking of TWD, you can also check out the very first minutes of The Walking Dead Season 10, which premieres tonight on AMC.
3. Outlander Season 5
Outlander is also a show. Season 5 premieres on February 16.
2. Steve Universe Season 6 opening theme
After a musical Steven Universe movie, the show returns with a brand new opening theme and a slightly different title. Steven Universe Future does not have a premiere date, but the new opening theme is pretty awesome.
1. Servant
Created by M. Night Shyamalan for Apple TV+, Servant is still a mystery. Aside from the brief teaser trailer revealed at NYCC, we also have the following synopsis:
From M. Night Shyamalan, Servant follows a Philadelphia couple in mourning after an unspeakable tragedy creates a rift in their marriage and opens the door for a mysterious force to enter their home.
The new show premieres November 28 on Apple TV+.
Bonus: The Grudge (2020)
The official trailer for this Sam Raimi-produced horror remake isn't available online, but we got a chance to see it at NYCC. Read our report from the Grudge panel.