'The Grudge' director says horror reboot is "way more f-cked up"
At NYCC 2019, the cast and crew of 'The Grudge' previewed the upcoming reboot of the Japanese horror phenomenon.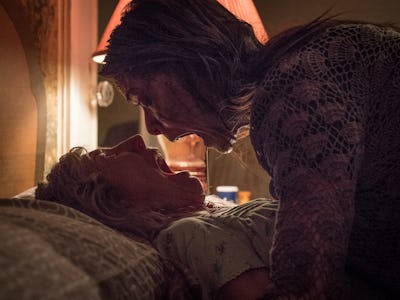 Sony Pictures
Not only is there a reboot of The Grudge coming soon from splatter icon and producer Sam Raimi, but it is apparently really messed up. Or, more colorfully, "fucked up," as the film's director said at New York Comic Con.
At the NYCC Main Stage on Thursday, the cast and crew of the 2020 horror film The Grudge shared several preview clips and took questions from the audience. The film, a remake of the 2002 Japanese horror phenomenon Ju-on, also riffs on some of the Hollywood remakes previously produced by Sam Raimi.
While the original (Hollywood) films were rated PG-13, this latest incarnation of The Grudge, directed by Nicholas Pesce, will be rated R. It's for this reason, Pesce said, that the film is "way more fucked up" than what audiences have seen before.
"There's definitely a deeper human character narrative in the movie and just by the nature of being rated R, got to to be — am I allowed to curse?" When Pesce was given the approval, he continued, "The movie's way more fucked up."
"Not that the wave of J-horror in the 2000s wasn't fucked up," Pesce added, "But this is really fucked up. So that's fun."
Set for release on January 3, 2020, The Grudge stars Andrea Riseborough, Demián Bichir, John Cho, Betty Gilpin, Lin Shaye, and Jacki Weaver in a new story about a detective who battles a vengeful ghost that haunts a suburban home. In attendance at Comic Con were Riseborough, Gilpin, and Shaye, along with Raimi and Pesce.
The clips contain a handful of disturbing scenes. In one, Shaye plays a deranged old woman who cuts off her own fingers like she's cutting vegetables. In another, a recreation of an iconic moment, John Cho is showering when he feels a ghostly hand rise out the back of his head.
Raimi, a film producer who established a long career through hits like the Evil Dead franchise and the first Spider-Man trilogy, said The Grudge has an "allure" that gives it new life in the 2020s. He praised Pesce as the deciding factor to bring back Grudge for the current era.
"It kind of has an allure that keeps going," Raimi said at the panel. "The curse keeps going, and also the ability to tell new stories. I think every culture believes that when something dies, usually something quite angry, there's some kind of energy left over. That's the basis of our mythology. Someone dies in a terrible rage, there's a darkness that won't let go. That won't forget. I think that story is relevant today as it could be 50 years ago or 20 years from now, but what I think what's new is, The Grudge has emigrated to America. It has come here to your home and a new legend is born in the United States."
When asked why he felt like now was the right time for a a reboot, Raimi said, "The reason why it's okay is Nicholas Pesce. He's so talented." He also professed admiration for Pesce's 2016 horror film The Eyes of My Mother. "I thought it was brilliant. I thought it was an original space in the horror genre. It was really powerful. I thought he was a visionary. So, that's why it's time."
He added, "Plus, he can make it with an R rating. He can let this spirit really scare the audience. Theres no censor stopping him. He can really show The Grudge from the hands of a madman."
The Grudge will be released in theaters on January 3, 2020.