Musk Reads: Tesla Model S Gets a Bonus Upgrade
Free unlimited supercharging is back; the Shanghai Gigafactory takes shape; the solar roof gets seriously tested.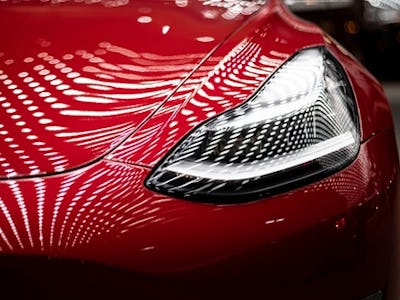 Free unlimited supercharging is back; the Shanghai Gigafactory takes shape; the solar roof gets seriously tested. It's Musk Reads: Tesla Edition #94.
Musk Quote of the Week
"Will Dojo to be the difference"
A version of this article appeared in the "Musk Reads" newsletter. Sign up for free here.
Tesla
Tesla has brought back free unlimited supercharging for the Model S and X. The bonus, which grants drivers unlimited access to Tesla's international network of super-fast chargers, creates a bigger difference between the two cars and the entry-level Model 3. Musk previously explained in September 2018 that the firm ended the bonus before because it was "not really sustainable" at high volume and "doesn't incent optimal behavior." Despite the two cars' premium accolades, the Highway Data Loss Institute found this week that the S and X are 90 percent less likely to be stolen than the average car, perhaps in part due to security features like Sentry mode.
The Gigafactory Shanghai, expected to produce cars by the end of this year, is taking shape. Tesla shared an image this week of the nearly-complete factory from above. The factory, located in Lingang, now falls under the Shanghai Free-Trade Zone after the Chinese government expanded the zone on Tuesday. Evidence from Twitter user @realChaoZhou suggests the factory could house a third-generation supercharger.
Texas-based car and truck accessory store PartCatalog has produced this rundown of which Tesla model is popular in each state. Model 3 is a hit on the coasts, but Model X reigns supreme in Arkansas, Idaho and North Dakota. How will the Pickup Truck, Model Y and new Roadster change the scene?
Tesla Solar
Tesla's solar roof is about to undergo some serious testing. The company has applied for a test structure at its Fremont plant to "evaluate" the roof and installation process. Musk previously explained how its "accelerated lab testing" is designed to analyze in the space of six months whether a roof could withstand 30 years of wear and tear. As Tesla aims for even cheaper pricing and 1,000 roofs per week, it may be about to receive a whole lot more customers. All of this is part of a broader company shift toward more clean energy solutions, which also includes the Tesla Megapack and a commitment to terawatt-hour levels of annual battery production. Read more.
What's next for Tesla: The Tesla Pickup Truck is due for unveiling "maybe 2 to 3 months" from now, Musk claimed last month, as the team works to put the finishing touches on a mass-market vehicle billed by Musk as "cyberpunk."
Musk Reads Mailroom
Ed Griffith asks:
I am up to date on estimates for all future projects except when the big Musk semi will be previewed. Please let us know when you find out.
The Semi truck has indeed gone relatively quiet. Musk gave a brief update at the company's annual shareholder conference in June, where he said production would start "hopefully towards the end of next year." The truck was originally unveiled in November 2017 with a 2019 production start. Musk cited battery production as the "main limiting factor" at the June meeting, the same bottleneck that delayed the solar roof in 2018.
In a report for business-focused freight news website Commercial Carrier Journal, Jason Cannon claims the company has declined to confirm order figures. The most recent estimations place the figure at about 2,000 vehicles, a fair chunk lower than the 100,000 per year by 2022 Musk predicted in a February 2018 earnings call. Around 290,000 orders were placed for this class of truck in North America in 2017.
"I've yet to speak to a fleet contact with a Semi on order that has much more information about the truck than what I've written here," Cannon wrote.
Tesla did not respond to Inverse's request for comment ahead of this newsletter.
Rick Bernal writes:
I'm wondering if the solar roof can withstand the weather in Colorado. We get some thunderstorms here that have softball sized hail. I'm not due to replace my roof yet, but just trying to get an idea about my options.
Good question! Tesla's official marketing literature would suggest that not only are the tiles up to the challenge, but they're better at withstanding hail than traditional roofs. The tempered glass is designed to be up to three times strong than standard roof tiles, as shown with this video.
But while the tiles may be up to the challenge, Tesla appears to be making tweaks to make the whole construction more resilient. The third version of the roof nearing completion is expected to make a number of changes to make it better protected against tough weather. As Tesla rolls out the roof to eight American states, it could prove necessary outside of the milder California climates.
Got any comments or queries? Don't forget to send them over to muskreads@inverse.com.
Photo of the Week
Tesla Model 3 nestled in the mountains.
The Elonporium
Subscribe to Inverse Loot and learn about these deals first.
The Ultra-Fine Print
This has been Musk Reads: Tesla Edition #94, the weekly rundown of essential reading about futurist and entrepreneur Elon Musk. I'm Mike Brown, an innovation journalist for Inverse.
Sponsor Musk Reads and get your business in front of a brainy, curious audience that's motivated to make the world a little better tomorrow. advertising@inverse.com.
A version of this article appeared in the "Musk Reads" newsletter. Sign up for free here.