Tesla Model S and X Electric Cars Set for Big Battery and Interior Upgrades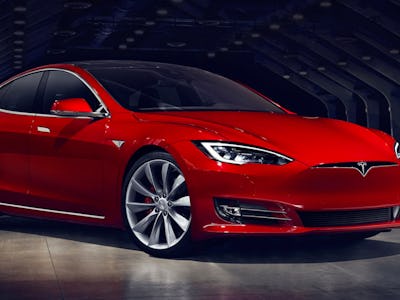 Tesla
Tesla is planning a major upgrade to the Tesla Model S sedan and Model X SUV, the company's two most premium electric vehicles that hit roads in 2012 and 2015 respectively. A new report claims that, alongside an interior that looks more like the one found in the Model 3 that launched in 2017, the company is also planning battery and powertrain upgrades.
Electrek reported Wednesday that the company is planning to introduce a broad series of changes to bring some of the advancements found on the Model 3, which starts at $35,000, over to its two more expensive vehicles.
The company is planning to make changes to the car's functionality through "Project Raven," a project that will upgrade the powertrain with permanent magnet reluctance motors like the ones found in the Model 3. These will replace the AC induction electric motors, and should provide greater performance and efficiency. The motor found in the Model 3 registers efficiencies higher than 97 percent, versus the 93 percent currently found on the Model S and X.
The upgrades are also expected to cover an interior design refresh, switching the portrait touchscreen for a raised landscape design:
Although it looks as if the instrument cluster is missing, as it is on the Model 3, previous reports suggest it's hidden further behind the steering wheel. CEO Elon Musk has claimed that an instrument cluster is less important in the company's latest cars, as they're built to support autonomous driving at a later date.
The reports also claim that the company will update the battery cells to the 2170 types found in the Model 3. The upgrades should enable support for higher 250-kilowatt charge rates, as supported by the third-generation superchargers unveiled last month. The upgrades use battery heatings and cable cooling to reduce charge times by 50 percent in total, adding 1,000 miles per hour to the battery.
A switch to the 2170 cell may also enable capacities greater than 100 kilowatt-hours. While Tesla has yet to ship a car with a greater capacity, the company is currently developing a second-generation Roadster for launch next year with 200 kilowatt-hours of juice. This will enable range of 620 miles on a single charge. Musk claimed in August 2018 that, as initial versions are simply two 100-kilowatt Model S packs pushed together, the company may find efficiency savings before launch.
The company is also expected to support the CCS charging standard, but it's unclear whether this will be limited to Europe as with the Model 3 launch or if this will roll out elsewhere.
With Model 3 seeing big sales in Europe and China after its international launch, bringing that car's features over to the more premium model is perhaps a move that makes sense from Tesla's standpoint.