Tesla Solar Roof rollout kicks up a gear thanks to company high-speed tests
The 'year of the roof' rolls on.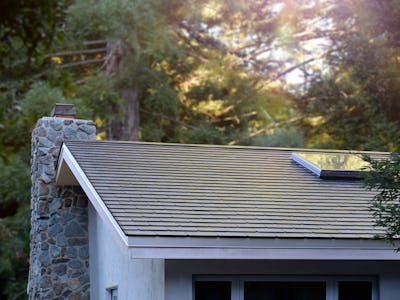 Tesla
Slowly but surely, the Tesla Solar Roof is rolling out.
The elusive solar-storing cells were first unveiled in November 2016, and saw limited installs in their early iterations around the spring of 2018. Tesla took the wraps off a new, third-generation tile in October 2019 that it claims will offer faster install times and greater energy-harvesting density. It's also cheaper than previous models: one Electrek analysis found prices dropped 40 percent with the new generation, dropping from $64,634 for a 1,862-square-foot roof to $38,266.
These design tweaks come amid changes to how the company develops its tiles. A July building permit showed the company's plan for a "test structure" at its Fremont plant in California to help "evaluate" the "Tesla solar roof product and installation process,. The permit, noted by CNBC, paves the way for the company to further increase its progress in build a product that could bring solar energy to more homes than ever.
The problem is that roofs are expected to last a long time. That means, as Musk explained in November 2017, that the panels will need to undergo "accelerated lab testing" to try and simulate the effects of multiple decades in the space of around six months.
The company has started to improve its design, debuting a larger third-generation tile in October 2019:
These new tiles are bigger than their predecessor, measuring 15 inches by 45 inches. The company is also hopeful that their simplified design could enable a roof install in just eight hours. Although initially shipping in a textured design, Tesla is aiming to launch a new tile design every six months.
Tesla Solar Roof: the elusive house of the future
The solar roof was first announced in November 2016, but even though installs started in early 2018, the product remains notably elusive. Musk, who declared 2019 as the "year of the solar roof" in March, attributed this slow rollout to the simultaneous rollout of the ultra-cheap Model 3 electric vehicle, which sucked up resources. A main issue was the cells used in the car were the same ones used in the Powerwall, the battery that pairs with the solar roof to enable 24-hour clean energy use.
The company's new tests came amid signs that things are turning around. Social media footage in July showed new installations taking place. At the annual shareholder's meeting in June, Musk claimed that the company was now installing in eight states.
Tesla's third version of the roof makes some design changes that could prove beneficial in the wider rollout. The new tiles are expected to be more weather resistant, a key change when moving to climates beyond California. Leaked documents from June detail custom-designed vents to match the roof, alongside custom-designed flashings and ridgecaps to boost weather-proofing.
With this tweaked version of the product, testing is about to become a whole lot more important.
Tesla Solar Roof: how to test for "infinity"
Tesla set itself a big task when designing the roof. Unlike retrofit solar panels, which rest above an existing structure, replacing the roof means guaranteeing solar energy and protection of the inside of the property. People expect roofs to last a long time: One oak roof in south England dates back to at least 1150, making it one of the oldest in Europe.
But while 870 years would be an impressive time for the solar roof to last, Tesla has gone one step further. The solar elements are insured for 30 years, but the non-solar elements have what the company refers to as an "infinity" warranty. The tiles use a tempered glass that's three times stronger than slate or asphalt, as demonstrated in this video:
Of course, the problem with making a promise like that is it's almost impossible to test in reality. Putting aside the obvious flaw in testing for an infinite number of years, Tesla can't install a roof for 30 years, see what happens to the solar elements, then use the results to either ship the design or make some necessary changes. They need to compress the timeline to get it to consumers' hands.
Musk said as much in a November 2017 earnings call:
A roof is expected to last a long time, at least 25, 30 years. And so there's a certain rate at which we can do accelerated lab testing on all these components and maybe try to accelerate lab testing on a 30-year roof in sort of six months. But it's hard to do it in less than about six months, and then we've got to pack that into the production process.
Tesla is planning to produce as many as 1,000 solar roofs per week. It's a tall order, but if Tesla can meet its goals and roll out the product further, it's likely to find customers reporting high satisfaction with the product.
"It has definitely been a worthy endeavor," Amanda Tobler, one of the first people to install the roof, told Inverse in May 2018. "If you have the finances to be able to get on the list and do it sooner rather than not, I wouldn't hesitate to do it again."