Tesla Solar Roof: 10 things we learned from Elon Musk's grand unveiling
The solar roof is ramping up.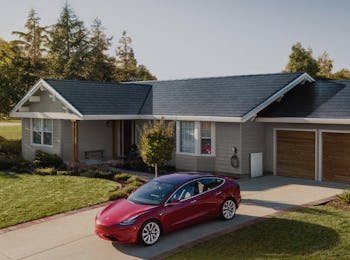 Tesla
Tesla's new iteration of the solar roof is here. The third-generation solar-harvesting tiles — dubbed by CEO Elon Musk as "solarglass" — were detailed in a conference call Friday, with further details in the subsequent days.
The new product marks a big move further into the energy sector, now that the company has recovered from ramping up electric car production in 2018. In March, Musk declared 2019 the year of the solar roof.
"The intent behind the solarglass roof is we can make roofs come alive," Musk said during the introduction conference call Sunday. "You can have a live roof instead of a dead roof. You have all these roofs out there gathering sunlight but not doing anything with it. Our intent is that you can convert that sunlight into energy."
It's been a while coming. The tiles, which look like a normal roof to the untrained eye, were first unveiled in November 2016 as part of the house of the future. The first installs went live in the spring of 2018, but progress was slow. The team has now made some changes to the design, reduced the price and has started preparing for a broader rollout.
"I think in the future it will be odd for roofs to be dormant," Musk said.
Here's what we know.
10. It's cheaper
Musk is keen to note that a solar roof only really makes sense when you're replacing a roof anyway, otherwise it's best to opt for retrofit. For those buying a new roof, the new tiles offer big savings.
"We've been able to achieve, with version three a price point that is less than what the average roof costs plus solar panels," Musk said. He subsequently noted that this would probably not be the case every single time, but in "80 percent" of cases it should hold true.
That's perhaps a fair assessment. Electrek analysis found that prices dropped 40 percent from version two to version three. A quote for a 9.45-kilowatt roof measuring 1,862 square foot dropped from $64,634 to $38,266. Including the Powerwall battery and on-site repairs, the price dropped from $85,000 to $54,866.
For those affected by the California wildfires, it could prove even cheaper. Musk announced Monday that solar and Powerwall battery prices would be reduced by $1,000 for those consumers.
9. Each tile is bigger
For this third version, Tesla has increased the size of each tile by a significant amount. The old tiles were 8.65 inches by 14 inches. The new tiles measure 15 inches by 45 inches.
8. These tiles use a new internal design
Internally, the tiles have undergone a big upgrade. They now pack more power density in each tile, while also dramatically reducing the number of parts and assemblies by over half. It should also eliminate the need to cut the tiles on-site, an issue with previous versions.
7. It should be harder to spot
The team also hinted that the new tiles use alternative methods to hide the cells from the naked eye. As solar cells are optically isotropic, where they can look purple at one angel and green from another, it offered a tough challenge for the team to create something visually pleasing. Musk said that "it may look weird if you're in a helicopter," but the new model will hide the solar panels better.
Amanda Tobler, one of the first to own a Tesla Solar Roof, told Inverse in May 2019 that although it's hard to tell that the earlier iteration of the roof looks different, its design does suggest something different about the house:
"There was one bizarre moment once where the sun was just at the perfect angle, and it looked like my house had almost like a halo for a brief moment. That's the only time I've ever had that happen. For the most part it's just, I don't know, a slightly shinier version of the roofs that are around us in the neighborhood."
6. Eight-hour installs are coming
Thanks to an easier-to-install design, which uses a straightforward trimming instead of a custom-built design for each roof, the new roof should be simpler to install. Tesla watched the factory to installation process to better understand how to improve.
"I think we can actually have the solarglass roof install faster than comp shingle," Musk said. "We're coming after you, comp shingle!"
How fast? Musk said that the company is aiming for eight-hour installs, which means a family can leave the house for the day and come back to a ready-to-go solar roof.
5. Tesla's going to put that to the test
Musk suggested during the call that the company is aiming to put this ease of installation to the test. The plan is to set up replica houses near the Fremont factory and get multiple teams to face off, timing their construction to see who can fit the roof first.
"We're going to try and get some of the best roofing teams in the country to also give it a shot so it's not just Tesla internal," Musk said.
4. Tesla's opening up installs to third parties
The company is working to bring third-party installers on board, providing a means of installing the new roofs at speed.
"This is something that we intend to open up for roofing contractors in general," Musk said.
This is notably different from Tesla's electric car model. The company has eschewed selling via dealerships, instead opening up its own direct-to-consumer sales. This has led to opposition from lawmakers in some states, which have laws that prevent this model from operating.
"I think it's a different situation," Musk said, citing how there's no local sales monopolies as there are with cars. Musk said that these certified installers could become "a very powerful driver of demand."
3. 1,000 roofs per week
Tesla is ramping up its production fast, aiming for "north of 1,000" installations every week. Several months from now, the company is aiming for a rate well past that figure.
"I think the addressable market is something on the order of a hundred million houses worldwide," Musk said. Better get moving.
2. Expect a new design every six to nine months
Tesla is starting off with the textured design, but at the 2016 unveiling he also showed smooth, textured and slate. Tesla is aiming to add a new design to the lineup every six to nine months. Musk described on the call one with an "earth tone…it looks like a clay tile."
1. Expect it to be available in more places
Solar roof installs have been notoriously limited, and even as late as this spring Tesla was officially installing in just eight American states. With this new iteration, the company explained that its current solar offerings are available in 25 states and it's expected to come to these markets.