Everything We Know About the Young 'Han Solo' Movie
Donald Glover as Lando, Emilia Clarke, Woody Harrelson, and more!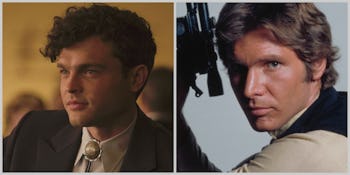 Rohan Voight
Han Solo may have tumbled into a bottomless pit at the end of The Force Awakens, but a new standalone 2018 Star Wars movie will chronicle the smuggler's younger days. Unlike Rogue One, this standalone "story" will feature at least two (and probably three) major characters from the classic Star Wars trilogy. And because its two primary characters — Han Solo and Lando Calrissian — were both criminals before they appeared in Star Wars and The Empire Strikes Back, the movie will almost certainly depict them doing shady things, including but not limited to stealing, drinking, and gambling. If Rogue One was the Star Wars take on a gritty-war movie, it's possible this as-yet-untitled Han-centric movie will be like Ocean's 11 in a galaxy far, far away. Here's your quick guide to everything you need to know about the 2018 Star Wars movie that for right now, everyone is just calling "the Han Solo movie."
The Cast
Alden Ehrenreich as Han Solo
On April 14, 2016, it was reported by multiple outlets that rising star Alden Ehrenreich was cast as the scruffy scoundrel Han Solo in a movie that is mostly about Han Solo. The casting was confirmed by Lucasfilm in July of 2016. Just off his humorous turn in the Coen Brother's film Hail, Caesar! Ehrenreich had had a varied acting career before, but was probably the least famous person in the film at the time. This has, of course, changed since he'll now forever be known as Han Solo.
Donald Glover as Lando Calrissian
On October 21, 2016, Lucasfilm revealed Donald Glover would join the film as the beloved gambler and card-player Lando Calrissian. Because there is so little "real" canon involving Lando's backstory, it's unclear when in his past this movie will take place, exactly. But, the casting of Glover did spotlight the absence of the original Lando, Billy Dee Williams, from The Force Awakens. Could the return of a younger Lando in the Han-centered film mean the older Lando could come back in Episode VIII this year?
Donald Glover has also spoken about his "strict" Lando diet, which means he will be in crazy-good shape in the movie.
Emilia Clarke as ???
Famous for her role as Daenerys Targaryen in Game of Thrones, it was announced that Emilia Clarke was cast on November 18, 2016. The identify of her character remains unknown. Though, at one point there were three women of color reportedly being considered for the role (Tessa Thompson, Naomi Scott, and Zoe Kravitz), so fans speculated that Sana Solo — a "wife" of Han Solo — might appear in the movie. Now that Clarke has been cast, this seems unlikely.
Woody Harrelson as "The Mentor"
On January 11, 2017, Lucasfilm announced Woody Harrelson was joining the movie. He's playing a character who is in his own words is "a bit of a criminal." Other than that, Harreslon has revealed very little about his role in the movie other than the fact that he is Han's mentor. While it's possible this character could be based on Garris Shrike from the A.C. Crispin books, there at least four other characters from the Legends canon this mentor could be based-upon, too.
On January 22, Woody Harreslon said "yeah, I am," in response to a question if he is playing Garris Shrike. This has yet to be officially confirmed.
Other Familiar Star Wars Characters
Presumably, Chewbacca will be in this film, though that has yet to be confirmed. Since Peter Mayhew returned to the role in The Force Awakens, it stands to reason he'll be back for some Chewbacca scenes here as well, but that has not been confirmed yet. Princess Leia will probably not be in the movie since she would be around ten-years-old at this point in the timeline.
Setting and Plot
Screenwriter Lawerence Kasdan has said the movie is set "about ten years before," the original Star Wars. This means the Rebellion is just getting started and the Empire is only about nine years into its reign. It's a good bet that Lando and Han's goals and problems won't have all that much to do with the Empire; so it's likely that the film's conflict and narrative will be focused on their extra-legal activities. Several of the old Han Solo books solved the Empire plot-problem by having adventures take place in the so-called "Corporate Sector," outside of Imperial jurisdiction.
Still, at least one possible plot detail of the movie could finally render the scene in which Han Solo wins the Millennium Falcon from Lando Calrissian in a card game called Sabacc. Having Lando be in possession of the Falcon at the start of the movie makes a lot of sense, considering it was his ship before it was Han's. If the film does show the infamous card game, it's possible that could all happen on Cloud City, which is where author A.C. Crispin put the card game in her book The Hutt Gambit. There's also reason to believe the much-discussed "Kessel Run" could be in the film, too.
The Creative Team
Directed by Chris Miller and Phil Lord
The Han Solo movie will be directed by the team of Chris Miller and Phil Lord. These are the guys who directed The Lego Movie and 21 Jump Street. Most fans have reacted positively to Miller and Lord helming the project, and the internet erupted with "Everything is Awesome" jokes when it was announced by Lucasfilm that they had the job on July 7, 2015. In contrast to the bleak Rogue One, hiring Miller and Lord sends a signal that this Star Wars film will likely be lighthearted and fun. Lucasfilm boss Kathleen Kennedy has described the movie as "closer to a heist or Western type feel."
Written by Jon and Lawerence Kasdan
Lawrence Kasdan co-wrote the screenplays for The Empire Strikes Back, Return of the Jedi, and The Force Awakens. His co-writer on the Han Solo movie is Jon Kasdan, his son. Is nepotism behind the hiring of the younger Kasdan? Maybe not. Could be that Lawrence just wanted to make sure there was plenty of father-son-style drama in the Han Solo movie.
The Release Date
Though initial rumblings suggested the Han Solo movie would debut in May of 2018, as of now it seems like the film could come out in December 2018. This would mean Star Wars would continue to own the holiday season until at least 2020.
This post will be updated as new information becomes available.