Lando Calrissian Will Be Fit AF in 'Star Wars' Han Solo Movie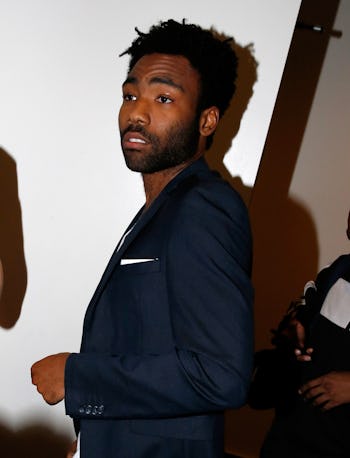 Johnny Nunez/BET / Contributor / Getty Images
When gambler, card player, and interstellar scoundrel Lando Calrissian meets up with Han Solo in the next standalone Star Wars film, he'll be in the greatest shape of his life and probably rocking a different kind of six pack than his predecessor.
Speaking at the Golden Globes on January 8, actor Donald Glover revealed to ABC news and Deadline that he is on a "strict diet" to play the iconic character and that this diet means "not getting to eat anything enjoyable for the rest of my life." Based on this, expect Lando to be super jacked in his adventures with Han Solo in the 2018. In the still-untitled movie, Glover will play the younger version of a role originated by Billy Dee Williams from The Empire Strikes Back and will doubtlessly gamble and booze with Alden Ehrenreich's younger incarnation of Han Solo.
Glover also said that being cast as Lando was a "big deal" because as a child a Lando action figure was "literally the first toy [he] ever got." No one is sure which variety of Lando action figure Glover received as a child, but based on the comments about the strict diet, it's possible it was the '90s version of Lando from Kenner who was, like the other figures in this line, super beefy.
Star Wars actors undergoing rigorous stunt training and fitness regimes is a time-honored tradition. Mark Hamill took sword-fighting lessons from Bob Anderson, Hayden Christensen pumped iron for the prequels, and Daisy Ridley and John Boyega both famously shared her fitness regime for The Force Awakens on social media. Glover getting sveldt for Lando means he's joining the club. But could it all mean that the muscly Lando Action figure from the '90s wasn't a mistake, but rather, a harbinger of things to come?
Donald Glover and his Lando-six pack (not of Colt 45) stars in the Han Solo movie, which opens sometime in 2018.