The History of the Galaxy's Most Infamous Dad Bod
Here are all the people who helped create the most menacing figure in the Star Wars universe.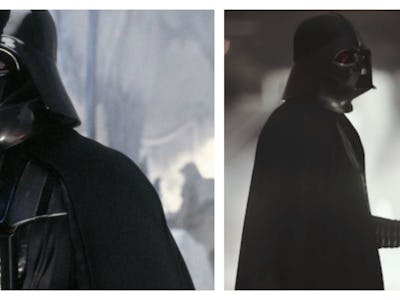 Originally not credited in the very first Star Wars in 1977, James Earl Jones has, and always will be, the canonical voice of Darth Vader. But, James Earl Jones was not the man inside of Darth Vader's suit. In fact, there have been a gaggle of Vader-bods over the years, some more well known than others. Because of Vader's numerous appearances in television commercials, conventions, Disneyland events, awards shows and, of course, Star Wars fan films, it would be nearly impossible to round up everyone who has been inside that suit. But the actors who have played Vader's body canonically made a huge impact on Star Wars culture in general.
With that in mind, and in celebration of the return of the Dark Lord of the Sith in Rogue One: A Star Wars Story, here's a breakdown of all the bodies who have played Darth Vader in a significant way.
David Prowse (Original Star Wars Trilogy 1977-1983)
Prior to Star Wars, David Prowse was probably most famous for playing Frankenstein's Monster in the 1967 James Bond spoof film Casino Royale. He's also played a monstrous Minotaur in a 1972 episode of Doctor Who. An English bodybuilder, Prowse was certainly cast as Vader for his size and ability to act inside of suits but, Star Wars apocrypha would also have you believe that Prowse was intended as the original voice of Vader, too, a notion which George Lucas denies. While it is true that Prowse did speak all of Vader's dialogue on set in the original Star Wars trilogy, Lucas claims he always intended to replace the voice. For years, Prowse has publicly contended George Lucas treated him poorly and owes him money. Unsurprisingly, Prowse is persona non grata at all official Star Wars events to this day.
Bob Anderson (Original Star Wars Trilogy 1977-1983)
One of the most famous stunt-sword masters in the history of film, Bob Anderson was not only responsible for choreographing the original lightsaber duels in all of Star Wars, but he also got in Vader's costume a few times to make the actual fight sequences look great. For years, his involvement in Star Wars was kept a secret, though Mark Hamill felt that giving credit was important, saying in 1983: "It was always supposed to be a secret, but I finally told George I didn't think it was fair any more. Bob worked so bloody hard that he deserves some recognition." As a cinematic swordsman, Anderson's stunt credits included everything from Highlander to Lord of the Rings. He passed away in 2012.
C. Andrew Nelson (Various LucasArts Video Games, Lucasfilm Print Ads, and The Empire Strikes Back Special Edition)
From Rebel Assault II: The Hidden Empire to the first-person shooter, Dark Forces, C. Andrew Nelson started playing the body of Darth Vader in the early 1990s. As a visual effects artist, Nelson was in a unique position to act in some of the Star Wars video games he worked on, particularly where cutscenes featuring Darth Vader were required. His convincing performance as Vader lead to him appearing as the character very briefly in footage inserted into the 1998 special edition of The Empire Strikes Back; a scene in which Darth Vader basically gets on and off a shuttlecraft. For the games in which Nelson appeared as Vader, the character was voiced by Scott Lawerence. Nelson also appeared as Vader in a variety of print-ad campaigns for Lucasfilm.
Hayden Christensen (Star Wars Episode III: Revenge of the Sith)
In 2005, Anakin Skywalker himself — Hayden Christensen — got into the body of Darth Vader for his appearance in Revenge of the Sith. (This was bizarrely, the last time a living Vader was seen in a Star Wars movie, and also the character's first appearance chronologically.) To convincingly play the athletic Anakin, and the towering Darth Vader, Christensen underwent rigorous physical training in the months and years leading up to the filming of Revenge of the Sith. And, as if paying homage to David Prowse's Frankenstein roots, when Hayden's Vader takes his first steps, he looks just like the classic Boris Karloff version of the famous undead monster.
Gene Bryant (Star Wars Episode III: Revenge of the Sith)
A secret Vader! Though Hayden Christensen is famous for being in the Vader suit in Episode III, actor Gene Bryant got into the suit for uncredited pickup shots for the ending sequences of the film. When Vader walks onto the Star Destroyer toward the end of Revenge of the Sith, that's Gene Bryant in the suit, not Hayden.
Spencer Wilding (Rogue One: A Star Wars Story)
The latest Darth Vader has a lot in common with the the original Darth Vader, David Prowse. Prior to Rogue One, Spencer Wilding has played three aliens on Doctor Who, and his fourth creature was in the role as an alien on the Who spin-off show, Class. And, following more Mary Shelley/Star Wars tradition, he was the monster in the 2015 film Victor Frankenstein. Future Vader-hopefuls take note: Try to get on Doctor Who and/or play some kind of version of Frankenstein's monster! But, Wilding's resume is impressive beyond that: He was that alien who stole Star-Lord's Walkman in Guardians of the Galaxy, a White Walker in Game of Thrones, and a warrior in the League of Shadows in Batman Begins. With the most geek-cred of all the Vaders who have come before, Spencer Wilding might be the best Vader-bod yet.
Rogue One: A Star Wars Story opens this Friday, December 16.