Alden Ehrenreich, New Han Solo, Has Had a Strange Career
He did crappy YA, perfume commercials, and 'Supernatural' before hitting it big.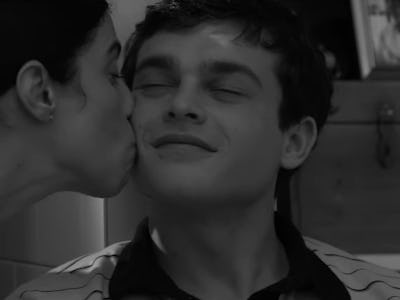 The casting news broke yesterday that 26-year-old Alden Ehrenreich was cast as young Han Solo in Chris Miller and Phil Lord's Star Wars spin-off film. His journey to inevitable superstardom — look what happened to John Boyega and Daisy Ridley this winter — is a very interesting one.
It turns out the guy has maintained unrivaled swagger since he was a child.
His career has been unusual from the start . According to Ehrenreich, he grew up as a "skinny little punk" who loved trying on girls clothes and eating dirt. These gender-bending antics grew into a character Ehrenreich often performed for his friends and family. As a kid, he made home movies with his buddies, developing his drag-punk character further. When he turned 13, he suggested screening some of the clips at a friend's Bat Mitzvah, to his mother's chagrin.
In the world's luckiest turn of events, Steven Spielberg happened to be in attendance at the party — a fact Ehrenreich glossed over when telling the story to New York Magazine in 2008, because, "you go to a Bat Mitzvah in Los Angeles and you can count on at least a few industry people to be there" — and the director was so taken by the teen boy's alt-art performance that he reached out and made a push to get Ehrenreich an agent. That one moment at a child's party led to "hundreds and hundreds of auditions" and a role in Francis Ford Coppola's black-and-white family drama Tetro, alongside Vincent Gallo.
Another early role featured Ehrenreich romancing Natalie Portman in a perfume commercial. Who knew they'd both one day star in Star Wars prequels?
Ehrenreich appeared in a very early 2005 episode of Supernatural, as a boy hoping to save his brother from a wendigo. Though the focus of the episode was on the show's leads, Ehrenreich's acting skills are obvious. He's clearly a natural at responding organically to CGI-enhanced hairy creatures, so communicating with a young Chewie in Star Wars will be a piece of cake.
In 2009, he starred as a scruffy (non-nerf herder) young criminal in a short film titled Greased, frowning and kissing his way through a boring plot.
In 2011, Ehrenreich starred in his second Coppola film, Twixt, as an eyeliner-streaked and leather clad teen named Flamingo, acting opposite Val Kilmer.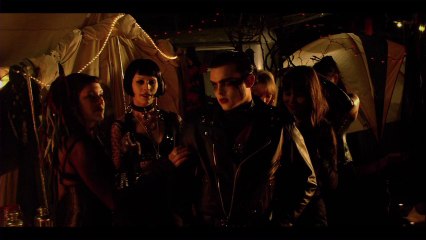 In 2013, Ehrenreich played a romantic lead in Beautiful Creatures, a horrifically written YA adaptation, and he gave the least objectionable performance. Again, a lot of his scenes involved responding to CGI stimuli, including spinning environments and weird fake lightning. The fact that Ehrenreich pulled off an engaging performance while delivering his lines through a Southern accent, and strapped to a magical chair in some scenes, is impressive.
That same year, he was cast by filmmaking auteurs Chan-wook Park, in his English language drama Stoker, and by Woody Allen in Blue Jasmine. In 2013, he was cast in Teenage, a documentary featuring vocal performances by Ben Whishaw and Jena Malone.
In 2015, he starred as a romantic lead opposite yet another brunette actress (Zoë Worth), as Eli in Running Wild. His onscreen chemistry with Worth was clear, and the film centered on their connection amid clips of "found footage" style ephemera.
Ehrenreich used his Southern twang again in the Coen Brothers' Hail, Caesar!, as the confused and very charming cowboy actor Hobie Doyle.
Considering all the recent talk about gender and sexuality in future Star Wars films — partially fueled by both an obvious chemistry between Finn (John Boyega) and Poe (Oscar Isaac) in The Force Awakens — it's exciting to see Ehrenreich, a young man clearly comfortable with complex gender expression, join the Star Wars family. Judging by his background and filmography so far, Ehrenreich will make young Han Solo an intriguing, quirky, baby-faced smooth operator.