Let's Make 'Star Wars' Gay
A new study suggests Hollywood isn't as inclusive as it likes to portray itself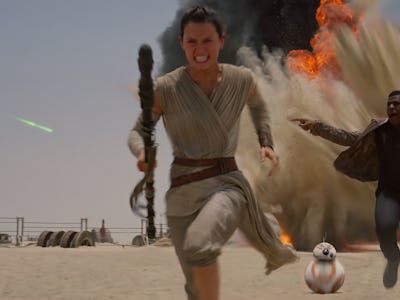 Disney / Lucasfilms
GLAAD on Monday released its annual Studio Responsibility Index, which assess films released by major Hollywood studios and grades them based on the quantity and quality of LGBT characters. This year's report finds several major studios receiving "failing grades," and in response, GLAAD has called for LGBT representation in an upcoming Star Wars films.
The landscape of LGBT representation in major Hollywood films is pretty bleak. Characters who are indispensable to the plot, are given a real and considered backstory, and are given defining characteristics and aspects of their personality beyond their sexuality are rare. Beyond that, there are still films that employ gay panic jokes and token gay characters as punchlines in 2016, GLAAD found.
Walt Disney Studios was among the failing grades, with 11 films released in 2015, none of which included a single LGBT character. Disney has never had a good track record, save for an "adequate" rating in 2013. But it's only getting worse: 2015 was the first year that there wasn't a single film from any of Disney's properties that included a LGBT character.
The report offers more insight than a simple failing grade, though. With regards to Disney, GLAAD points out that strides made in LGBT representation in all-ages programming by films and television shows like ParaNorman and Steven Universe proves that inclusion isn't some out-of-reach concept for studios that are heavily focused on all-ages films.
In fact, the report points to Star Wars as a great place to start with inclusion.
"As sci-fi projects have the special opportunity to create unique worlds whose advanced societies can serve as a commentary on our own, the most obvious place where Disney could include LGBT characters is in the upcoming eighth Star Wars film," the organization wrote. "2015's The Force Awakens has introduced a new and diverse central trio, which allows the creators opportunity to tell fresh stories as they develop their backstory."
LGBT characters already exist as part of the Star Wars expanded universe, and JJ Abrams has commented on the existence of LGBT characters in the Star Wars universe, saying, "Star Wars is all about inclusivity, it's all about unifying us. It makes no sense that that vast, amazing world with a multitude of planets and locales would not include people who are gay."
Abrams has also commented on the likelihood of seeing LGBT characters in future installments of Star Wars (outlook is good) and for their part, plenty of fans have already decided that Finn and Poe Dameron are decidedly OTP-worthy — a number of theories, fan videos and plenty of fan fiction have sprung up around the pair.
Whether Finn and Poe become a romantic pairing or Rey finds a space girlfriend, or we see an LGBT character from somewhere else in the universe, it's clear that it's time for more LGBT representation in films, and that Star Wars has an opportunity to make strides in positive representation and inclusivity.