Alden Ehrenreich Will Play Han Solo In the Star Wars Han Solo Movie, Probably
Now we just need to figure out who's playing Chewbacca.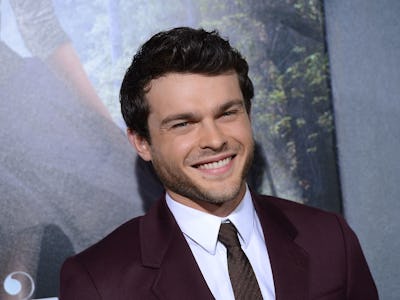 Jason Kempin / Getty
Don't believe the rumors. While actors Miles Teller and Taron Egerton were thought to be the top picks for the coveted role of the young Han Solo in the planned 2018 standalone movie after thousands of elligible dudes auditioned, Deadline is reporting that actor Alden Ehrenreich is Lucasfilm's man.
According to deadline, Egerton and other candidates like Irish actor Jack Reynor were on the official shortlist, but apparently Ehrenreich impressed the directing team of Phil Lord and Christopher Miller after one of the final auditions.
So who, exactly, is Alden Ehrenreich? The Los Angeles-born actor has made some waves in indie circles by working in smaller films with big name auteurs. Weirdly enough he was spotted by legendary director Steven Spielberg in a bat mitzvah video, which got him in front of director Francis Ford Coppola. Ehrenreich broke out early on his career in a pair of Coppola films, Tetro and Twixt, and briefly appeared in Sofia Coppola's 2010 film Somewhere.
Later he played the stepson of the Cate Blanchett's character in Woody Allen's Academy Award-winning film Blue Jasmine, and most recently drew raves for his standout performance in the Coen brothers Hollywood farce, Hail, Caesar! He'll next appear as the lead in actor/director Warren Beatty's untitled Howard Hughes biopic, which will bow sometime later this year for awards contention.
His relatively low profile and immense talent makes him the perfect candidate to play Han Solo. In our quasi-cop out post about who should win the role, we admitted that an unknown would be best suited for such a responsibility. With Ehrenreich, who has proven himself with some of the most prominent filmmakers in the world, you get the best of both worlds. He's got a lot of experience but is still relatively unknown.
The only thing left to do now is to get Harrison Ford's blessing, which is no easy task. Hopefully Ehrenreich's audition was just a spot-on version of the Cantina scene just to impress the notoriously crotchety Ford.
Lord and Miller's film, which is written by Star Wars vet Lawrence Kasdan and his son Jake, centers on a young Han Solo before he joined up with Luke Skywalker in the Rebel Alliance. Disney chief Bob Iger let details slip that the story will be "an origin story about Han Solo and Chewie."
The film is slated for release on May 25, 2018.