Every Possible Actor Has Auditioned to Be Han Solo in the New 'Star Wars' Spin-Off
The standalone film directed by Phil Lord and Chris Miller doesn't come out until 2018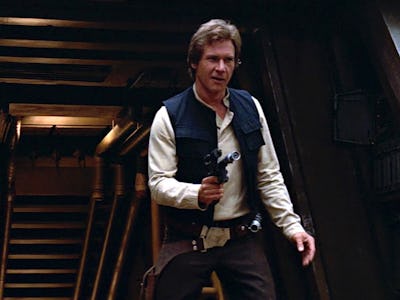 StarWars.com
Who wants to be the new Han Solo in the new standalone movie directed by Phil Lord and Chris Miller? Well, it looks like basically every young actor who can memorize a few lines and be a little bit charming.
Despite a far-off release date of May 25, 2018, casing has reportedly begun on the untitled Han Solo movie. It will be the second Star Wars spin-off after director Gareth Edwards' Rogue One is released on December 16, 2016.
Apparently more than 2,500 actors have met with the film's casting director, Jeanne McCarthy, for the part. McCarthy previously worked with Lord and Miller on their TV show The Last Man on Earth and both 21 and 22 Jump Street.
So who is on the multi-thousand-actor list? The real question is who isn't on the list, really. Some of the actors vying for the chance to potentially fly the Millennium Falcon — deep breaths now — are:
Dave Franco, Aaron Taylor-Johnson, Miles Teller, Nick Robinson, Leo Howard, Tony Oller, Chandler Riggs, Hunter Parrish, Rami Malek, Landon Liboiron, Ed Westwick, Tom Felton, Joshua Sasse, Logan Lerman, Ansel Elgort, Jack Reynor, Colton Haynes, and Max Thierot.
Don't forget, there are literally thousands more, so don't take your pick just yet. Though the most interesting detail to glean from the news is that the filmmakers seem to be looking for a Han between the ages of 18 and 35. Harrison Ford was 35 when he first took on the role way back in 1977.
Despite the intimidating number of eligible young whippersnappers trying to take over one of the most iconic roles of all time, an unnamed agent for one of said fresh-faced whippersnappers told *The Hollywood Reporter: "This has been the easiest movie to audition for," undoubtedly trying to curry favor for their client (it's probably the agent for Ed Westwick).
The insane amount of actors is even more hilarious when you consider how Harrison Ford himself got the role four decades ago. Ford simply sat in on the original casting sessions with Star Wars mastermind George Lucas and helped feed actors lines. Ford had appeared in the director's previous movie, American Graffiti. A few actors, including Kurt Russell, auditioned for the part, but Lucas liked Ford's easy delivery and gave him the part instead of anyone that auditioned.
It looks like for this new generation of Star Wars, things will be a little more official and a lot more complicated.