Emilia Clarke, Daenerys Targaryen Herself, Cast in 'Han Solo'
She'll play an as-yet unknown role.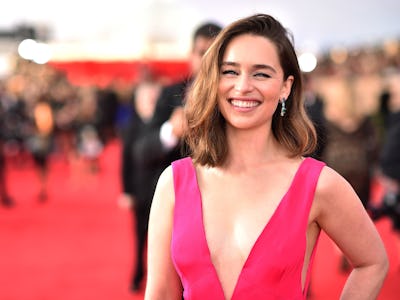 Getty Images / Dimitrios Kambouris
Game of Thrones star Emilia Clarke has been cast in the as-yet untitled standalone Han Solo Star Wars spinoff.
The 30-year-old actress's casting was announced on Star Wars's official website on Friday night. She'll appear alongside Alden Ehrenreich as Han and Donald Glover as Lando Calrissian.
"Emilia Clarke is heading to a galaxy far, far away — and she's going to meet Han and Chewie," the release reads. Disney, which owns Star Wars, didn't give out too many more details other than to say that her role will "round out a dynamic cast of characters that Han and Chewie will encounter on their adventures."
Clarke's role is still unknown, but she could be in the running for the female lead role that Tessa Thompson (Creed) and Zoe Kravitz (Divergent) have tested for. Power Rangers's Naomi Scott was also in the running. Still, it's entirely (and hopefully) possible that the film will have two prominent female characters, so we can hope that Thompson, Kravitz, or Scott is still involved in the film.
It's unknown, at this point, what role the actress most famous for her role as Daenerys Stormborn of the House Targaryen, First of Her Name, the Unburnt, Queen of the Andals and the First Men, Khaleesi of the Great Grass Sea, Breaker of Chains, and Mother of Dragons, will be portraying in a galaxy far, far away, but her status as one of the breakout stars of Game of Thrones means it probably won't be a bit part.
The spin-off, which doesn't have an official name yet, is being directed by Phil Lord and Christopher Miller, and is set to come out in 2018.