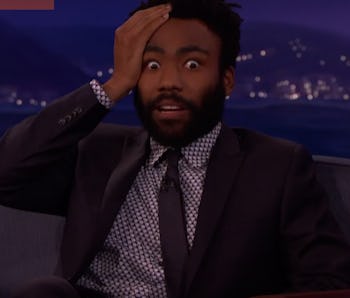 Entertainment
Donald Glover's Mom Told Him 'Don't Mess Up' Lando Calrissian
"You can't compare yourself to Billy Dee."
The Mary Sue
When news about Donald Glover's casting as a young Lando Calrissian in the upcoming Star Wars-spinoff Han Solo film broke on October 22, the internet — expectedly — imploded. And while Twitter was having a heyday, Glover's own mother had just one thing to say: "Don't mess it up."
Glover revealed Mama Glover's reaction to the news of his casting on Wednesday to Ellen DeGeneres on her talk show.
"Because Billy Dee, like — that's hers," Glover said, speaking of Billy Dee Williams, the actor, artist, singer, and writer who originally portrayed Lando Calrissian in The Empire Strikes Back and Return of the Jedi.
"You can't compare yourself to Billy Dee," DeGeneres reassured him. "It's a whole new kind of thing now."
Before delving into a discussion about his new hit show, Atlanta, Glover added another fun bit of info for us to revel in. He told DeGeneres that the first toy he remembers having ever gotten was a Lando Calrissian action figure.
"My dad gave it to me," Glover said. "I had a Darth Vader one, too."
The internet at large has also been passing around a photo of Glover wearing a Star Wars shirt in high school. The overwhelming online support simply adds to the usual firestorm of "pro-Donald Glover for X character" insanity — from Marvel's Spider-Man to Star Wars's Lando, Glover is a pretty typical pick.
But that's not a surprise. Just look at that smile.