Inverse Daily: "A puzzle that we can't really explain"
On August 30, amateur astronomer Gennady Borisov observed a comet in the sky above Crimea, coming from a distant part of the galaxy and moving toward Earth.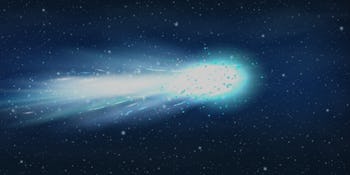 Google is back on the map: The Pixel 4 debuted Tuesday and it looks incredible. So what's at stake? Only the title of best smartphone camera on the market. And the orange Pixel 4 should give Apple even more competition for the best tool to take a selfie. I'm Nick Lucchesi, executive editor for Inverse. This is Inverse Daily for Wednesday, October 16, 2019.
This article is an adapted version of the Inverse Daily newsletter. Subscribe for free and earn rewards for reading every day.
INVERSE QUOTE OF THE DAY
"It's still a puzzle that we can't really explain."
— Keith Noll, Ph.D., chief for the Planetary Systems Laboratory at NASA's Goddard Space Flight Center, on the unanswered question of how planets form. Read our story about one of space's big mysteries.
Interstellar overdrive
On August 30, amateur astronomer Gennady Borisov observed a comet in the sky above Crimea, coming from a distant part of the galaxy and moving toward Earth. This week, astronomers confirmed it was an interstellar visitor — an object from outside our solar system — making it the second such object ever observed by humans.
A team of astronomers this week published one of the first studies detailing some characteristics of the comet — named 2I/Borisov — which makes it comparable to comets that formed within the solar system. This new information tells us that comets which formed outside our solar system can have similar characteristics as ones formed inside our solar system.
The findings provide an interesting contrast to 'Oumuamua, the first interstellar object observed by humans, spotted two years ago. 'Oumuamua looked nothing like what astronomers had ever seen before, but Borisov has a fascinating familiarity to it.
More far-out stories:
We built this city
SpaceX has a plan for a crewed mission to Mars. Like any big road trip, the company has also planned out where the fuel will come from.
Over the weekend, SpaceX CEO Elon Musk floated how a base on Mars could find the power to create more fuel. It would focus on an array of solar panels, which third-party estimates suggest would span four football fields. It would produce at least one megawatt of power, possibly up to 10 megawatts, to fuel a chemical process that takes water, ice, and carbon dioxide from the air and produces liquid oxygen and methane. It's a plan Musk has been talking about for years, but he offers new details here.
Far from just a means to return home from a trip to Mars, the propellant depot could unlock an even greater exploration of the solar system. Explorers could continue out further, establishing a planet-hopping network that would enable humans to establish further bases on other planets. Humans could move beyond the Earth and even establish cities on planets beyond Mars.
More SpaceX news:
Hair of the dog
Approximately 77 million Americans own a dog, and not just because pups are magnets for Instagram likes. A number of studies have documented the benefits of owning a pet, including their ability to reduce our stress and increase our self-esteem.
Now, two new pieces of research add to our understanding as to why owning a dog benefits one's physical health — especially when it comes to recovery.
Continue reading about the benefits of good dogs. →
More pet science studies:
Input
Hey, we're starting something new and it's going to be awesome. You should be the first to know.
The nose knows
Snot, the green goo we rocket from our nose when it's cold, has a surprising use for disarming pathogens. It turns out mucus does more than physically trap bacteria and viruses; it actually interferes with bacteria's communication and behavior, effectively making them harmless and keeping us healthier in the process.
New research from the Massachusetts Institute of Technology shows mucus contains "glycans," specialized sugar molecules that can disarm pathogens and prevent infection.
Scientists are now calling mucus a "therapeutic gold mine." The discovery could lead to the development of "artificial mucus" and new ways of treating antibiotic-resistant infections. These sneaky sugar molecules, however gross or uncomfortable, play a powerful role stopping infection in its tracks.
More on the science of snot:
Channel orange
Orange is the new black. We're talking about Google's new Pixel 4, not the Netflix series.
While there will be plenty of analysis on whether any of the new devices Google announced on Tuesday are any good — we've got wireless Pixel Buds, a Pixelbook Go Chromebook, a new Nest Mini smart speaker, and a Nest Wifi router — the burning question everyone really wants to know is: How orange is the "Oh So Orange" Pixel 4?
Go deeper:
Today's good thing
Could renewable energy replace fossil fuels much earlier — decades earlier — than we originally predicted? In a report this week in The Guardian, Michael Liebreich, founder of the research group Bloomberg New Energy Finance, says the substitution of old technology with new is always "like waiting for a sneeze."
"The first 1% takes forever, 1% to 5% is like waiting for a sneeze – you know it's inevitable but it takes longer than you think – then 5% to 50% happens incredibly fast." Read the full story here.
Meanwhile …
Inverse Loot
Subscribe to Inverse Loot and learn about these deals first.
That's it for Inverse Daily today.
If you've got a suggestion for how to make this newsletter better, drop me a line at nick@inverse.com. And follow me on Twitter, where I retweet the best of Inverse every day.