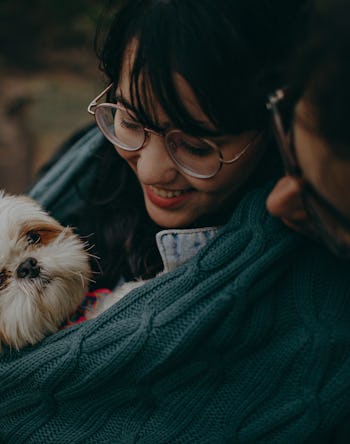 Mind and Body
Dog ownership is linked to a living a longer, stronger life
"Dog ownership is associated with reduced cardiac and all-cause mortality."
Unsplash / Helena Lopes
Approximately 77 million Americans own a dog, and not just because pups are magnets for Instagram likes.
A number of studies have documented the benefits of owning a pet, including their ability to reduce our stress and increase our self-esteem.
Now, two new pieces of research add to our understanding as to why owning a dog benefits one's physical health — especially when it comes to recovery.
According to a study and separate meta-analysis published this month in the journal Circulation: Cardiovascular Quality and Outcomes, owning a dog is associated with living a longer life, especially among those who have survived heart attacks and strokes.
"These studies provide good, quality data indicating dog ownership is associated with reduced cardiac and all-cause mortality," Glenn Levine, M.D., a professor of medicine at Baylor College, explained as outside commentary. "While these non-randomized studies cannot 'prove' that adopting or owning a dog directly leads to reduced mortality, these robust findings are certainly at least suggestive of this."
Dogs and the human heart
The first study used the Swedish National Patient Registry to identify patients between the ages of 40 and 85 who suffered an ischemic stroke or heart attack sometime between 2001 and 2012. Of the 181,696 individuals who experienced a heart attack, 5.7 percent owned a dog. Meanwhile, 4.8 percent of the 154,617 stroke-sufferers owned a dog as well.
The scientists discovered that, compared to people who did not own a dog, the risk of death for dog-owning heart attack patients who lived alone was 33 percent less. Meanwhile, the risk of death of dog-owners who lived with a partner or child was 15 percent risk.
When it came to the stroke patients, a similar trend emerged. The risk of death for those who lived alone, save for their dog, was 27 percent lower and 12 percent lower for those who also lived with a partner or child.
The study authors hypothesize that these results emerged because people with dogs are likely more active and less lonely. Social isolation is a strong risk factor for premature death — and owning a dog inherently means that a person has to enter the world.
Dogs and our ability to survive
The meta-analysis involved an evaluation of 10 studies published between 1950 and 2019 that examined the link between dog ownership and overall mortality. In turn, the study author found that "dog ownership was associated with a 24 percent risk reduction for all-cause mortality as compared to non-ownership, with six studies demonstrating significant reduction in risk of death."
More specifically, compared to non-dog owners, dog owners experienced a 65 percent reduced risk of mortality after heart attack and a 31 percent reduced risk of mortality due to cardiovascular issues. In turn, having a dog was also associated with increased physical exercise, lower blood pressure levels, and a better cholesterol profile — which could explain why the dog owners lived longer.
The authors behind both studies note that more research is needed to say whether or not what's being seen here is a casual relationship, rather than a grouping of coincidences. They also emphasize that you shouldn't just get a dog in an effort to live longer — you should get a dog because you're going to be good to it.
"The next step on this topic would be an interventional study to evaluate cardiovascular outcomes after adopting a dog and the social and physiological benefits of dog ownership," co-author of the meta-analysis, Caroline Kramer, M.D., Ph.D., explains. "As a dog owner myself, I can say that adopting Romeo [Kramer's Miniature Schnauzer] has increased my steps and physical activity each day, and he has filled my daily routine with joy and unconditional love."
More pet science headlines from Inverse: