10 Travel Essentials For Fall Getaways
Hitting the road? Don't set off unprepared. Here is your ultimate packing list.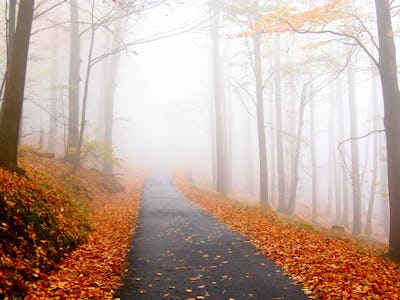 Unsplash / Bernd Schulz
Road trip!
Fall is a great time to hit the road. The leaves are beautiful, the weather is cool, and the kids are all back in school so there is room at the inn.Before you go, though, make sure you are prepared for all the possible contingencies and emergencies. Here's an expert guide to packing your car for a road trip.
You're hitting the road. What are you going to listen to? Radio commercials? That same playlist from your phone—-over and over?
Bring Alexa with you and she will handle the tunes, queue up a book, or tell you some jokes. She will do all the things she does at home: Keep track of your shopping list, order things from Amazon, set reminders, and pull up facts. She can also place calls and set the destination on your phone's nav so you can keep your eyes on the road.
For a limited time, the Auto Echo comes with three months of Audible so you can ask her to play audio books while you drive. This is absolutely a tool you want to take on your road trip.
Unless you want your car—and the planet—to be full of discarded coffee cups and water bottles by the time you arrive, you need a travel mug. This one is awesome. It has a flip top that seals tight so you can toss it in a bag, and it won't leak. It also accommodates (and comes with) straws. And it's made of double-walled aluminum so your drink stays hot or cold for hours. It also comes in plenty of great colors so everyone on your road trip can have their own color. No confusion! No trash!
Road trips can involve a lot of fast food and wasted leftovers. But if you have a cooler in the car, you can pack a few essentials—beer, soda, sandwiches, milk for your coffee—so you can eat better and save some money along the way. And when you do stop at a restaurant, you'll have a place to stash the leftovers. This one is big, collapsible (so you can store it under a seat when you aren't using it), and easy to carry.
Your phone is an essential travel tool. A road trip, more even than when you are at home, is a terrible time to run out of battery. Plug this into your car's cigarette lighter, though, and you will never have to worry about that again. It will charge two devices at once so everyone on your trip can keep their phone topped up no matter how much time you spend in the car.
A dead battery can derail your whole trip. Maybe you have jumper cables in the car…bBut what if your battery is dead, it's the middle of the night, and there are no good Samaritans around with a car to charge yours with?
This TACKLIFE T8 800A Peak 18000mAh Car Jump Starter is jumper cables and a battery. It will also charge your phone in case your car and phone batteries are dead.
That's a crisis averted! (Plus, as soon as you buy it and throw it in your trunk, you know you're not gonna have to use it).
This little hard-sided first aid kit is a must-have car essential. You go for a hike and get stung. You're cutting an apple and slice your hand. You need an ibuprofen. The fix is all in here. And this package is small enough to fit in those goofy car-door pockets and substantial enough to survive kicking around in your car for years before you use it. If you don't have a first aid kit in your car, buy one before you go on a road trip.
Camping? Touristing? Airbnbing? What happens when you arrive at a destination and it's pouring? Get wet? Give up? Or pull a big umbrella—big enough to shelter both of you—out of the trunk and go about your plans!
This is called being prepared. And it will make your trip go much better. Because when you bring an umbrella, it doesn't rain.
You can't control the sound levels around you when you travel. But you can control what sounds get to your brain with these. Theseare squishy silicone putty. You mold them into your ears. And—when you do—you get complete silence.
Hopefully, you'll never get them out of the box. But if you find yourself sleeping somewhere that's next to a concert or a train station, you'll be glad you have them.
You happen upon a beach or swimming hole. Someone spills a drink on you in a restaurant. You get caught in a downpour… or the towels in your Airbnb are crap.
You don't care about any of that. Because you have towels in your car. These are thin and portable, but big enough to wrap around you and wear as a sarong. They dry quickly, so you can just drape them over the luggage and carry on. They also make a cute wrap to wear around a hotel room. This is a set of four, so you're covered for all contingencies.
Are you going to do a little hiking along the way? Do you want to carry your phone, water bottle, and hoodie in your hand for that? A light, packable day pack is handy for everything from hitting a farmer's market to spending a few hours on the trail.
This one packs down small and holds plenty. It also has handy side pockets so you can have easy access to your water bottle.